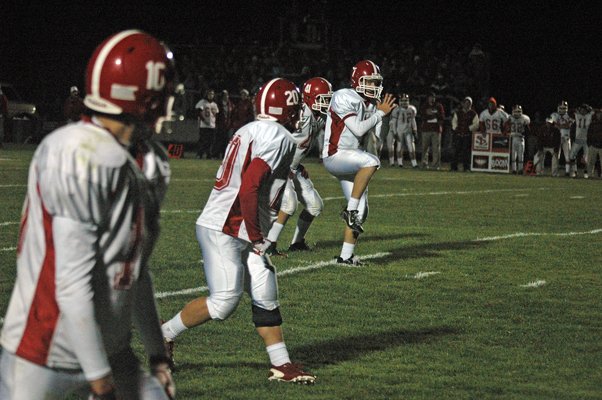 continued — The Patriots scored in the first five minutes of the game, as Austin House kept the ball from one yard out to give the Patriots a 7-0 lead.
House then connected with Jonathan LaDieu for a 44-yard score and Connor manning received an 11-yard scoring pass from House to give the Patriots a 21-point lead (Manning converted on all three point-after attempts).
House capped the scoring with 50 seconds remaining in the game with a five-yard scoring run, and Manning again hit the point after to round out the scoring.
House finished with 74 yards rushing and a pair of touchdowns on the ground and 180 yards on 9-for-14 passing and a pair of touchdowns through the air.
Dillon Savage added 50 yards rushing, while LaDieu had 101 yards receiving and Manning added 63.
Indians blank Vikings
The Peru Indians celebrated the 10th anniversary of their New York State Public High School Athletic Association Class B state championship Sept. 17, then shutout the Moriah Vikings, who have played in two of the past three Class D title games.
The Indians scored all 34 of their points in the middle two quarters, and their defense kept the Vikings at bay, extending the teams scoring drought to 12 of the first 12 quarters Moriah has played in 2011.
Tyler Murphy opened the scoring with a 53-yard punt return in the middle of the second quarter, which was followed 58 seconds later with a Shawn Hendrix four-yard interception return and Jeff Kruz added a 16-yard rushing touchdown with 29 seconds remaining in the half.
Mike Holdridge scored on a 46-yard pass from Taylor Rock in the opening minutes of the third quarter, and Alex Cederstrom scored on a 39-yard rush to cap the scoring for the Indians.
Rock finished 7-of-12 passing for 193 yards and a touchdown, while Cederstrom finished with 50 yards rushing. Zane Bazzano had 83 yards receiving, while Holdridge and Murphy each had 43 yards receiving.
Vote on this Story by clicking on the Icon