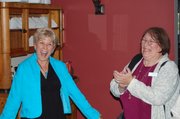 Saranac Lake — Beckie O'Neill was named Woman of the Year by the New York State Women Inc. Adirondack Chapter at a surprise party thrown at the Red Fox restaurant here Sept. 14.
"I'm overwhelmed, and incredibly honored, delighted, thrilled," said O'Neill.
O'Neill is a yoga teacher, the owner of Managing Wellness, and a counselor at St. Joseph's Addiction Treatment & Recovery Center.
Chapter President Melissa Uhlik said the banquet was "honoring a woman of integrity, someone who's done a lot for the community, who embodies everything we try to strive for."
NYS Women Inc. aims to "build powerful women professionally, personally, (and) politically through advocacy, education and information."
Chapter Vice President Beverley Sprague said the award honors specific traits in a woman.
"It's for their service to the community, dedication to their jobs, helping others," Sprague said. "We don't necessarily give it out every year. We have to find somebody we think is worthy."
O'Neill came to the restaurant believing she was giving a health-related lecture to the group. Instead, she found an audience made up of friends, family and well-wishers. She said she was "extremely" surprised.
"It's just starting to sink in; it's very exciting," O'Neill said. "I'm prepared still to give a presentation on how to help people manage wellness."
The good-natured subterfuge was achieved, Uhlik said, "through a collaborative effort of emails, phone calls, fibs, white lies and one almost-foot-in-mouth."
Saranac Lake Mayor Clyde Rabideau issued a proclamation recognizing O'Neill.
"For over 30 years Beckie shared the benefits of yoga and meditation — and numerous other types of other stress management techniques — with countless area residents, summer visitors, correctional facility inmates, cardiac rehabilitation patients, corporate employees, high-school athletes, people with developmental disabilities, people in addiction recovery, pregnant mothers, senior citizens, and numerous other groups," Rabideau stated. "I, Clyde Rabideau, Mayor of the Village of Saranac Lake, on behalf of the greater community, do hereby recognize and commend Beckie O'Neill for her many contributions to the health of our community, our economy, our people, and our future."
Vote on this Story by clicking on the Icon