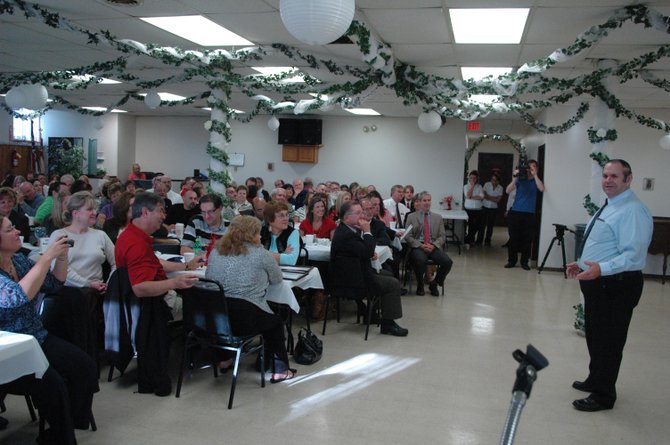 Plattsburgh — Thanks to a lot of donations, the United Way of the Adirondack Region, Inc., is well on its way to a goal of $775,000 in donations.
The organization held its annual Campaign Kickoff Breakfast for the 2012 endeavor at the American Legion Post 20 in Plattsburgh Sept. 16.
United Way of the Adirondack Region Executive Director John Bernardi said that the organization had built a support web throughout the counties of Clinton, Essex and Franklin.
"We have been playing connect the dots at the United Way," Bernardi said. "What we have created is a web and a network of health and human services."
"We need to find some way to fill the gap, and this organization does," Gerald "Gerry" Morrow, Chesterfield town supervisor and Campaign chairman, said. "Each business has a champion that really pushes this campaign to their employees. We have set a goal of $775,000. It is a goal that is reasonable for us to meet and exceed, and I'm sure that we are going to do it."
Larry Jeffords of Jeffords Steel in Plattsburgh said that he has always found ways to get his employees involved in helping the United Way, even when he was a member of the military.
"I was assigned to be in charge of the campaign when I was at Fort Benning, and we thought, how about a day off for a day's pay," Jeffords said. "You know, we had 100 percent participation and after how good our division did, guess who was put in charge of the campaign for the battalion?"
Jeffords said that the participation level in his company is around 95 to 98 percent, and that he tries to match the employees' donation, even as the company has grown.
"The one thing that we tell them is that they have the fortune of having a job while many others don't," Jeffords said. "We ask them to give whatever they think they can give and typically, they step up and do that."
As part of the pacesetter program, which involves companies that participate in early fundraising drives, there has been $155,913.65 donated to the United Way, just over one-fifth of the goal for the 2012 campaign.
Vote on this Story by clicking on the Icon