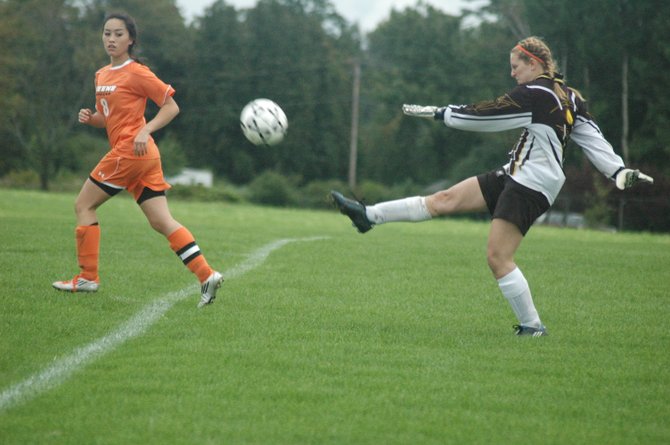 continued — Serene Holland connected on a direct kick opportunity to scored the lone goal for the Warriors in the 55th minute.
Chiefs blank Hornets
Ellen Thew scored goals in each half as the Saranac Lady Chiefs scored a 2-0 victory over the Plattsburgh High Lady Hornets Sept. 15.
Thew scored her first goal in the 30th minute off a Kristen Napper assist, then added a second tally in the 67th minute, with Amelia Jenks assisting.
Carle Neale made three stops in goal for the Hornets, while Jamie Favreau made 10 saves in earning the shutout.
Indians outscore Cougars
The Peru Lady Indians scored four goals in the opening half en route to a 5-1 victory over the Northeastern Clinton Lady Cougars Sept. 15.
Ashley Carpenter provided the bookends to the Indians scoring, netting the teams first goal in the fourth minute off a Lindsey Bushey assist. Carpenter also scored the final goal of the game in the 42nd minute, with Alexi Bushey giving the assist.
Lindsey Bushey also assisted on an Autumn Kelly goal in the 11th minute, while scoring a goal in the ninth minute from a Alexi Bushey assist. Sonja Brown scored in the 36th minute for the Indians, with Carpenter providing the assist.
Amanda Harvey scored the Cougars goal in the 38th minute off a Molly Roush assist.
Chazy blanks Seton Catholic
The Chazy Lady Eagles scored two goals in each half as they defeated the Seton Catholic Lady Knights, 4-0, Sept. 15.
Cailtyn LaPier scored in the 39th minute off an assist from Megan Reynolds. LaPier also booted out assists on the other three goals scored in the game by Christina Emery (sixth minute), Hannah Laurin (56th minute) and Jori Cooper (61st).
Katherine Tooke had four saves in the shutout, while Shannon Olsen had 17 saves for the Knights.
Vote on this Story by clicking on the Icon