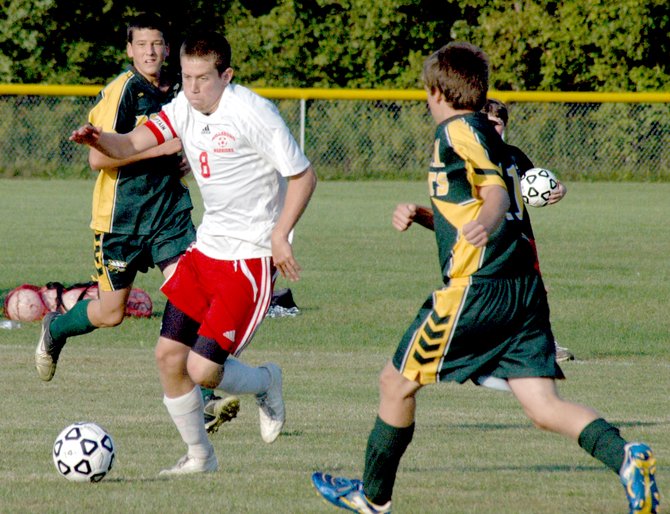 continued — Laurin added another tally 44 seconds into the second half off a Dominy assist, and the Eagles held a 17-5 advantage in shots.
Austin Santor made four saves for the Eagles, while Brock Marvin recorded 10 for the Lions.
Strong first half leads Knights to win
Adam Tedford scored three goals in the first 10 minutes and a fourth in the 37th minute, part of a five goal first half as the Seton Catholic Knights defeated the Westport Eagles 6-1 Sept. 14.
Tedford's first two goals, scored in the first and sixth minutes, were unassisted. Tedford was assisted by Cody Quantock in the 10th minute and James Mulligan in the 37th. Mulligan also scored in the 49th minute off a Patrick Maddix assist.
Kaden Baughn scored the other goal for the Knights in the 18th minute on an assist from Quantock.
For the Eagles, John Doyle scored in the 73rd minute off a Ryan Davis assist, while Ethan Markwica made 13 saves in net.
Hornets strong first half downs Indians
David Carpenter and Ethan Votraw scored 11 minutes apart in the first half as the Plattsburgh Hornets went on to a 3-0 win over the Peru Indians Sept. 14.
Carpenter scored on a Votraw assist in the 12th minute, while Votraw scored unassisted in the 23rd minute. Dan Fout scored in the 43rd minute off an assist from Mitch Guanga.
The Indians' lone goal came from Sean Harrigan, with Ian Spear assisting.
McCarthy hat trick leads Cougars
Kyle McCarthy scored in the 17th, 45th and 59th minutes and assisted on the other two goals as the Northeastern Clinton Cougars scored a 5-1 win against the Saranac Lake Red Storm Sept. 14.
McCarthy was assisted by Rob Armstrong, Austin Tetreault and Matthew Latourneau, while he assisted on goals scored by Liam McDonough in the 21st minute and Bo LeDuc in the 28th minute.
Vote on this Story by clicking on the Icon