Ticonderoga — Essex County Treasurer Michael Diskin of Ticonderoga recently attended the 2011 National Association of County Collectors, Treasurers, and Finance Officers annual conference in Portland, Ore.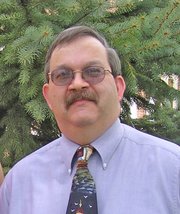 While there he was selected by his peers to become the first vice president of NACCTFO for 2011-2012. Diskin had been serving as second vice president for NACCTFO in 2010-2011.
A highlight of the conference for Diskin was his granddaughter's performance of the national anthem.
Kaitlin Diskin, daughter of Tara and William E. Orr and granddaughter of Betsi and Michael Diskin, was invited to sing by incoming President Stephen Holt of Joplin, Mo., at NACCTFO's annual banquet in front of a group of approximately 200 people.
Kaitlin Diskin is a sophomore at Ticonderoga High School.
Michael Diskin has been the Essex County Treasurer since 1995. He has also held several offices in the New York State County Treasurers and Finance Officers Association, serving as secretary, second vice president, first vice president and president of NYSCTFOA in 2002.
He has been an active member of NACCTFO since 2002, when he attended his first NACCTFO Conference in New Orleans. Subsequently, he has attended annual conferences in Milwaukee, Phoenix, Chicago, Richmond, Va.; Kansas City, Nashville and Washoe County, Nevada, in addition to this year's conference in Portland. He has also attended the NACCTFO Legislative Conferences in Washington, D.C., each March from 2004 to 2011.
Diskin has received numerous certificates from NACCTFO's educational training partner, the University of Missouri at St. Louis (UMSL), for attendance at their educational training sessions. He has amassed 204 hours of continuing education in a wide variety of fields including finance, banking, employee relations, media relationship, and interpersonal skills. He has received all four levels of awards from UMSL, including the University of Missouri at St. Louis Chancellor's Certificates in Public Administration as a Government Finance Officer, Finance Executive, Finance Professional, and Finance Master.

He has also served on several NACCTFO Committees and Sub-committees, including the Policies and Procedures and Legislative Committees. He has been a member of the NACCTFO Legislative Committee since 2004 and Chairperson of the Legislative Committee since 2006. In his capacity as Legislative Committee Chairperson he has been responsible for tracking and reporting back to the NACCTFO membership on important upcoming legislation at the national level that impacts County Finance Officials across the United States.
Vote on this Story by clicking on the Icon