continued — Essex County District Attorney Kristy Sprague that one area of importance between the two countries was in the area of cross designation.
Video
U.S. District Attorneys of Northern NY, VT, NH and ME attend 2011 Northern Border Summit in Lake Placid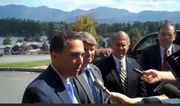 "It would allow us to pursue a lead that takes us across the border and help us in that investigation and aprehension," Sprague said.
Clinton County District Attorney Andrew Wylie said that he felt the visit by Holder showed his interest in the plight of border law enforcement.
"It shows the commitment to the northern border and our efforts here," Wylie said. "Help that we are looking for would be with some of the funding that we receive to help in our investigations on the state level."
Derek Champagne, Franklin County District Attorney, said that he felt any new programs should focus on taking away any advantages that criminals and organized crime networks may now have.
"I received a text regarding 75-pounds of drugs seized on the border of St. Lawrence and Franklin County," Champagne said. "It's common place for us to have those kind of seizures."
Vote on this Story by clicking on the Icon