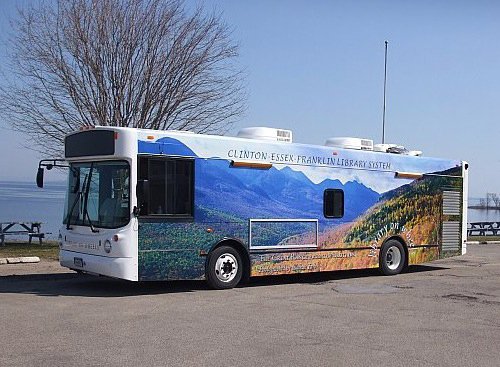 Plattsburgh — A North Country source of literacy on wheels has been shut down.
The Bookmobile, run by the Clinton-Essex-Franklin Library System, will no longer be running as of the end of the year.
CEFLS director Ewa Jankowska said in a press release that the Bookmobile was a victim of the current economic climate.
"Deep and ongoing budget shortfalls are responsible for this decision, which was a hard one to make," Jankowska said. "However, despite the fact that we did everything we could, including not filling two staff positions, and slashing our materials budgets each year, we were faced with no alternative. Unfortunately, we needed to make a tough decision between fulfilling our mission to provide services to member libraries or to continue the bookmobile service. Our current budget climate simply cannot support both."
The Bookmobile takes a monthly route throughout the communities of the three counties which it serves. Stops throughout each month include the Saranac town hall, Cadyville fire station parking lot, Roderick Road Apartments, Morrisonville Post Office parking lot, St. Regis Falls Adult Center, Dickinson Center Fire Station parking lot, Moira Crossroads parking lot, Brushton Boltser's IGA, North Bangor Post Office, Port Kent, Keeseville Country Gardens, Clintonville near Methodist Church, Ada Court in Cliff Haven, Winebrook Hills Citizens Bank parking lot, Newcomb School parking lot, Minerva town hall, Olmstedville four corners, Grover Hills Deli, Yandon-Dillon Center in Mineville, West Road in Witherbee, Moriah Fire Department, Pyramids Preschool in Morrisonville, Clinton County Seniors in Plattsburgh, Vilas Home parking lot in Plattsburgh, Flynn Avenue in Plattsburgh, Treadwells Mills, Lewis four corners, North Hudson town hall, Lord Howe in Ticonderoga, Chilson Community Hall, Lake Clear Post Office, Gabriels, Bloomingdale, Vermontville Post Office, Redford Church of the Assumption, Rouses Point, Beekmantown, Whippleville, North Star Industries, Constable, Westville, Fort Covington, Peasleeville, Peru, Ellenburg Center, Churubusco, Brainardsville and Lyon Mountain.
(Continued on Next Page)
Prev Next
Vote on this Story by clicking on the Icon