continued — Bombers win second
Karissa Kennedy scored in the 79th minute to give the Lake Placid Lady Blue Bombers to goal they needed to get past the Seton Catholic Lady Knights Sept. 10.
Kennedy scored off an assist from Kendra Manning, which led to a one-touch scoring opportunity.
Mackenzie Kemmerer scored the opening tally in the 15th minute, which was answered when Paige Spittler scored, unassisted, 59 seconds later.
Vikings blank Warriors
The Lady Warriors got 10 saves from Stephanie Blanchard, but were unable to find the back of the net themselves, falling 1-0 to the Moriah Lady Vikings Sept. 10.
Chazy scores often in win
Amber Polomsky scored once and assisted on a pair, contributing to half of the Chazy Lady Eagles offensive production in a 6-0 win over the Northern Adirondack Lady Bobcats Sept. 10.
Polomsky scored on a Christina Emery assist in the third minute, and assisted on goals to Emery in the 43rd minute and Amanda Kempainen in the 48th minute. Kempainen also scored in the 14th minute on an assist from Caitlyn LaPier, who scored in the 47th minute on a Kirsten Doran assist. Doran then scored the final Eagles goal in the 50th minute, assisted by Victoria Lyons.
Jesslin Golovach made 11 saves in net for the Bobcats.
Saranac scores two in second
After a 1-1 tie through 40 minutes, the Beekmantown Lady Eagles scored twice in the second half to earn a 3-1 win over the Peru Lady Indians Sept. 9.
Jess Huber scored a pair of goals and Kallie Villemaire scored the eventual game-winner for the Eagles, while Mary Mazella scored the lone tally for the Indians.
Westport defeats Crown Point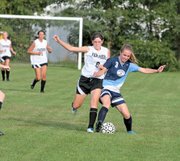 Five different members of the Westport Lady Eagles tallied goals in a 5-1 victory over the Crown Point Lady Panthers Sept. 9.
Brendee Russell opened the scoring in the eighth minute on an assist from Mallory Sudduth, while Allison Sherman scored in the 38th minute on a penalty kick. Emily Rascoe scored her first goal for father and varsity coach Brad Rascoe in the 48th minute off an assist from Ellie Schwoebel, while Megan Sudduth notched her first varsity goal in the 59th minute and Delany Sears scored, unassisted, in the 63rd minute.
Karlee McGee made four saves in the win.
Vote on this Story by clicking on the Icon