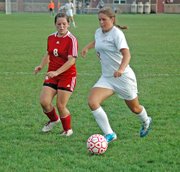 Clintonville — After a pair of goals in the first 10 minutes of their Sept. 8 game, the Plattsburgh High Lady Hornets and AuSable Valley Lady Patriots settled down for an exciting opener to the 2011 Section VII girls soccer season.
In the second half, however, the Hornets found the net to earn a 2-1 win.
The two teams scored one goal each early, as Brooke Knight scored for the Hornets in the third minute and Megan Colby scored on an assist from Liz Rennie in the 10th minute.
"It was a pretty sloppy opening," PHS head coach Tim Mulligan said after the game. "Both goals came off of deflections that gave the girls open shots on net."
The two teams settled in for the rest of the first half and the first 20 minutes of the second half before Marle Curle started a counter attack for the Hornets, with the ball eventually winding up on the foot of Kelly Menard, who snuck a shot past the goalpost and hands of Patriots goalie Taylor Saltus.
"Marle hustles non-stop," Mulligan said. "A lot of the chances that she creates for this team are from working hard."
The Patriots spent the final 20 minutes trying to attack the Hornets net, getting their best chance in the 80th and final minute, when a cross that was redirected by Colby trickled just wide of the net.
"We had a shot there in the end," Patriots head coach Keith Raines said. "For the first game I am very proud of our performance."
The Hornets finished with a 7-5 edge in shots, with Karlie Neale recording three saves for PHS and Taylor Saltus grabbing two for AVCS.
Both coaches said that they are looking forward to continued play in the Division I season, which is made up solely of Class B teams.
(Continued on Next Page)
Prev Next
Vote on this Story by clicking on the Icon