Crown Point — As Deputy Assistant Secretary for Rural Outreach in the U.S. Department of Education John White has learned one thing. No two schools are alike.
"Every place I go is different," he said. "I always try to bring back information to the department that points out rural schools have different needs than urban schools, but that even rural schools are all different. Each school faces its own unique challenges."
White visited Crown Point Central School and Ticonderoga Middle School Sept. 6 after a morning stop at Willsboro Central School. He joined College For Every Student President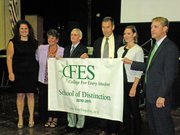 Rick Dalton at the schools, which were each recognized as a CFES "School of Distinction" for efforts in creating high levels of college awareness and raising aspirations among students.
One midwest school White visited had a superintendent who also served as a principal and a bus driver. Another school was led by a senior teacher with a shared superintendent who visited once a week. Schools need to do whatever works for their students and communities, White said.
"That's why I'm here to listen and learn," White told Crown Point teachers. "I want to hear your ideas and figure out what works and why."
Why White believes local schools know best, he also believes schools need help.
"Schools need partners," the federal official said. "CFES is a partner here. I want to see what CFES has done and what its impact has been."
A goal of CFES is to encourage college attendance, White noted.
"One of President Obama's initiatives is to have the United States have the highest percentage of college graduates in the world by 2020," White said. "We used to lead the world in that area, but we've fallen to the middle of the pack. That has to change."
White noted the struggling American economy is linked to a decline in America's educational standing. He said colleges produce entrepreneurs, small business leaders and skilled workers.
(Continued on Next Page)
Prev Next
Vote on this Story by clicking on the Icon