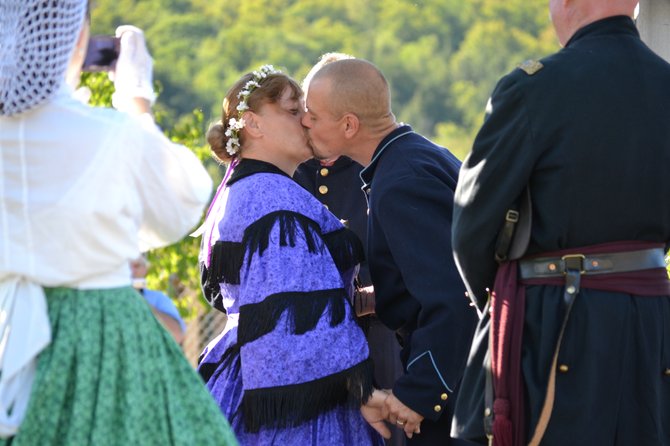 Photo Gallery
Civil War at the Ski Bowl
North Creek's Ski Bowl hosted a Civil War encampment in recognition of the 150 years since the Civil War began.
Wedding bells? Overrated. Disc jockeys and emcees? No thank you. The wedding Elenore Cota wanted was a minimalist throwback to the days of the Civil War.
"No music, no flair, just the emphasis on the vows and the union," said Cota.
As part of Johnsburg Goes to War, commemorating 150 years since the Civil War began, two re-enactors were wed in a period, but real, ceremony in the Ski Bowl garden.
Cota and her new husband, Reginald Rattie Jr., met through mutual friends six years ago, and re-enact together in Civil War dress.
When the couple lit candles to signify their union, instead of transferring the fire to wicks on an altar, the fire was joined in a field lantern.
Heading into the world for the first time as man and wife, the pair was framed in an arch formed by Civil War guns held by their re-enactor companions.
Cota said they'd celebrate their new life the way people would have in the Civil War, "around the campfire with our friends and with a prayer for our soldiers."
Pastor Kenny Bascom said this was his first Civil War wedding, though he's married plenty of couples. A period wedding is a rare event, he said. In the 16 years he's re-enacted, he can only recall two other ceremonies like the one he conducted. It takes a little preparation.
"There are some different vows," said Bascom. "There's more of an emphasis on honor and the sanctity of marriage."
Our understanding of life in the past, including romance, is tied to artifacts made by the period's people, said Josiah Buck.
Buck was on hand with an extensive collection of Civil War artifacts, including an armory of guns from the time.
Buck said he's been traveling with his hoard for decades and has visited 27 states.
(Continued on Next Page)
Prev Next
Vote on this Story by clicking on the Icon