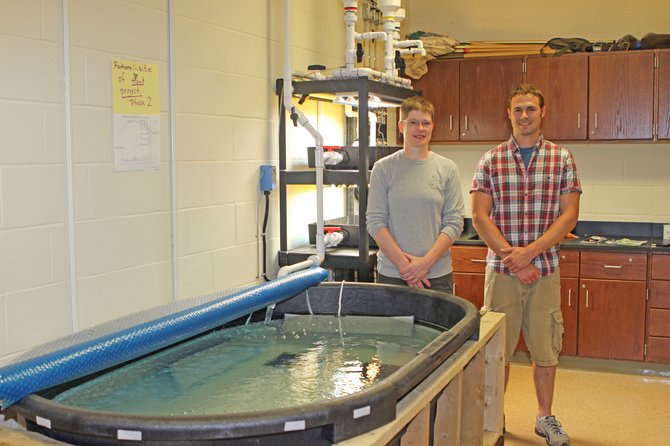 continued — "Local individuals, businesses and community groups have offered support through donations of materials or cash," Barker said. "We (teachers and students) began construction on the project in June and neared completion in July. Minnows were used successfully to test the system during a four-week period in July and August. Final construction of the hydroponics portion was completed in August. The minnows were returned to their original tanks as the system was made ready for the trout. Lake water replaced the water in the tank the third week of August. After a week of stabilization, the trout were transferred to the 300 gallon tank, which will be their new home until they are tagged and released next spring."
Riddle, the earth science and middle school science teacher and an experienced plumber, designed the system with help from Barker, the biology and chemistry teacher.
"The five students who were selected last winter to work with Phase 1 (rearing of trout) of this project will focus on Phase 2, the self-sustaining aquatic ecosystem, to design standard lab protocols and to do research projects," Barker said. "A second group of students will apply and be selected this fall to focus on raising trout from eggs, Phase 1 of our trout project. All the work the students do is above and beyond their normal class schedule.
"This trout project will compliment the highly-successful DNA project that many people helped support a few years ago," she added. "Both projects will be used to enhance the science education here at SLCS by making science come alive and by tying community values to our curriculum."
Barker has taught science at Schroon Lake the past 19 years. She has brought over $13,000 in grant and sponsorship funds to the science department during that time. In 1999 Barker was presented with the Outstanding Biology Teacher Award through the National Biology Teachers Association.
Vote on this Story by clicking on the Icon