Port Henry — Johnny Podres was a World Series legend. Pat Salerno wants to be certain everyone remembers it.
Salerno is leading an effort to erect a sign at the south entrance to Port Henry honoring Podres, the 1955 World Series Most Valuable Player and native son.
"I knew Johnny well and I think this is the best way to remember him," Salerno said. "He's a hometown hero who had a tremendous influence on a lot of people. I think future generations should be aware of his 50 years in major league baseball."
Podres, who died in 2008, grew up on Lamos Place in Witherbee. He graduated from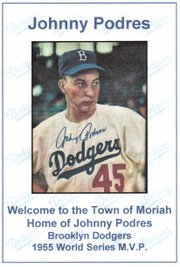 Mineville High School in 1950 before joining the Brooklyn Dodgers. After a long career as a pitcher and later as a pitching coach, Podres retired to Queensbury.
A fund has been set up to raise the $2,000 needed for the sign. Salerno got the project started by selling his own collection of baseball cards during this summer's inaugural Johnny Podres Day.
A dinner will be held to raise more money on Sunday, Sept. 18, 2 to 5 p.m. at Boni's Bistro in Port Henry. The dinner will include spaghetti, meatballs, salad and rolls for $10 a person. Take-outs will be available. Reservations can be made by calling Salerno at 546-9775.
During the event, Johnny Podres' jerseys will be on display. There will also be a 50/50 raffle.
Cash donations are also being accepted for the project. People can mail checks, payable to Town of Moriah Johnny Podres Benefit, to Johnny Podres Benefit, c/o Town of Moriah, Attention Town Clerk, 14 Park Place, Port Henry 12974.

The 4 x6 feet sign will feature a large photo of Podres taken in 1955 wearing his Dodger uniform. It will be similar to a baseball card.
Podres did the unthinkable — he led the Brooklyn Dodgers past the New York Yankees for their one and only World Series championship.
(Continued on Next Page)
Prev Next
Vote on this Story by clicking on the Icon