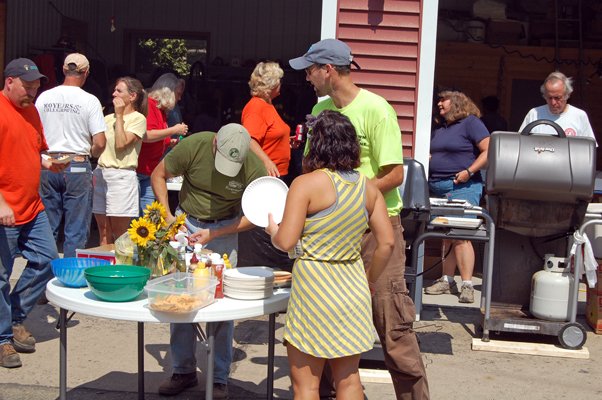 continued — "We got rescued by DEC who came in an airboat that died," Neville said. "So we actually were rescued in a raft that they had and in my dingy. There were two of us and three dogs. I could not have gotten out without them. They really knew how to row against that current."
Meredith Dembrosky, who works for the town of Keene in a variety of capacities, assisted in the cleanup of the storm.
"I helped clean out and take stuff out of the annex, which was demolished," Dembrosky said, referring to the structure where the town code officer and assessors were located.
Dembrosky said it was somewhat relaxing to be at the cookout.
"You think more of it when you go home," Dembrosky said, adding she had lived in town for 61 years. "This is the worst thing we've ever had."
Still Dembrosky said the town pulled together.
"Our town, it got cleaned up fast," Dembrosky said. "Everybody helped everybody and other towns helped us, too."
Rob Hastings, the owner of Rivermede Farm, estimated that his business lost an estimated $20,000 worth of equipment alone in the storm.
"It's like a bomb went off out there," Hastings said.
Hastings said he was interested in National Guard soldiers helping out in the cleanup of the farm.
"If it's a possibility we would be more than happy to put them to work," Hastings said.
Vote on this Story by clicking on the Icon