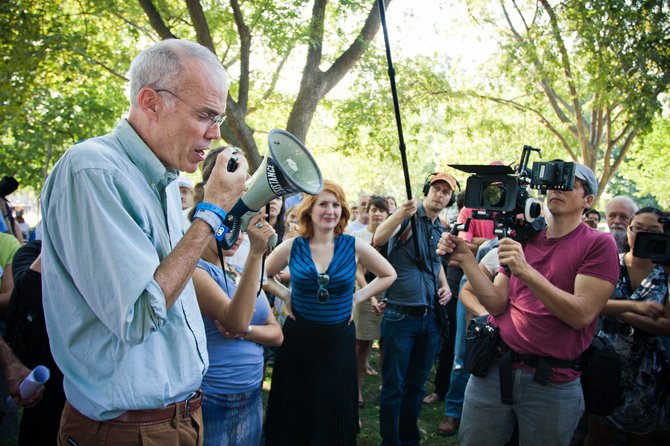 WASHINGTON — Longtime Johnsburg resident and Middlebury college professor Bill McKibben's civil disobedience display outside President Barack Obama's yard is winding down to its Sept. 3 end.
McKibben and others are protesting a planned oil pipeline project, called the Keystone XL, that will run 1,384 miles through the western U.S. and 327 miles in Canada, connecting Alberta to Texas. Because the pipeline crosses an international border, it requires presidential approval. That led the protest to the White House, in close viewing distance of Obama.
McKibben and others are breaking the law in the tourist-heavy area by occupying an area where visitors are required to keep moving. When they don't stay in motion and refuse to move when asked, the protesters are manacled and put into a paddywagon, said McKibben. They're released a few hours later.
The first weekend, Aug. 20 and 21, McKibben and others were detained in D.C. Metro Police's central cell block. McKibben spent two nights in jail before his court date. The judge, appalled at his treatment, dropped all charges.
On Sept. 1, the protest's website, tarsandsaction.org, counted 834 people arrested in the demonstration with two days remaining.
Following Irene's devastation in Vermont, state residents traveled to Washington to protest the pipeline's approval, said McKibben. The tar sands deposit in Canada is the second-largest deposit of oil on the planet, and burning its resources will heavily damage the climate by accelerating global warming, said McKibben.
The pipeline is also projected to have a more direct impact when it's built and moving oil.
Some of the planned 1,711-mile pipeline will pass over a Nebraska aquifer that will be only 10 feet below the oil-sluicing conduit.
"That's just not commonsensical; it's not what a reasonable person would do," McKibben said.
The U.S. Department of State released its Final Environmental Impact Statement Aug. 26. According to the report's executive summary, "In spite of the safety measures … spills are likely to occur during operation over the lifetime of the project."
(Continued on Next Page)
Prev Next
Vote on this Story by clicking on the Icon