continued — For the Vikings, Landon Cross, who returned to the quarterback position to replace an injured Cole Gaddor, ran for 48 yards and one touchdown while completing one-of-two passes for 23 yards to Travis Nephew. Taylor Whalen added 29 yards and Cheney added 22 yards as well as 1.5 tackles for loss and a half of a sack.
Carlo Calabrese had 3.5 sacks and a forced fumble, as the Vikings caused the Lumberjacks to run 20 plays that resulted in no gain or negative yardage, while the Vikings only had four.
Jordan Garrow finished with 90 yards on 17 carries, while Stone Keniston added 29 yards. Mitch Keniston had 46 yards receiving on four catches.
The Vikings (2-7) will face the Sentinels in the Class D finals next Friday, while the Lumberjacks finish the season at 6-3.
"We have to stop that running game," Tesar said about the renewal of the rivalry. "It's not just a one person attack."
"We have to come to practice prepared and be mentally tough from the start to the end of the game," Ida said.
Also in sectional football play, the AuSable Valley Patriots will return to the Section VII/Class C finals as they scored a 17-14 win over Ogdensburg in the semifinal round in Clintonville.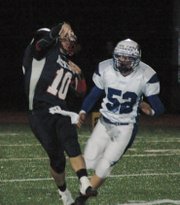 Trailing 7-0 at halftime, the Patriots (3-6) scored 14 unanswered points in the third quarter against Ogdensburg as Austin House ran for a five-yard score and then connected with Kyle Prinsen on an 18-yard score.
After Ogdensburg tied the game in the fourth, Connor Manning connected on a 20-yard field goal with 3:52 remaining and the Patriots were able to stop Ogdensburg on a late fourth-and-one play to secure the win.
House finished with 62 yards rushing and 63 yards on 5-of-12 passing, while Kodie Simpson completed his lone pass for 69 yards. Prinsen had 103 yards receiving on three catches, while Manning had 32 receiving yards and the game-winning kick and an interception on Defense. Simpson (interception) and Evan Cobb (fumble recovery) also forced turnovers.
Vote on this Story by clicking on the Icon