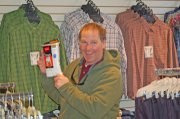 Saranac Lake — The Community Store opened its doors at 9 a.m. Saturday, Oct. 29, ending a nine-year department store drought in this small Adirondack village.
One of the first questions people asked as they walked through the door at 97 Main St. was, "Where's the underwear?" After the Ames department store closed in 2002, residents constantly complained they couldn't even buy a pair of underwear in Saranac Lake. It soon became a running joke, even when the Community Store – a community owned department store – was founded in 2007, a year after Wal-Mart abandoned plans to build a supercenter here on Lake Flower Avenue.
Milt Adams, of Lake Clear, was the first to find the underwear after the store opened but didn't buy any of the briefs he held up for a quick photograph while his wife, Christine, was shopping.
"I'm just browsing," he said.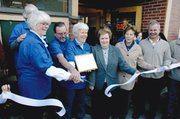 Community Store board members joined three store employees, including General Manager Craig Waters, during the opening hour, helping customers find items and checking them out. Minutes after the store opened, Waters had the music system working and the former Italian restaurant-turned department store was filled with the soothing disco beat of "More Than a Woman," by the Bee Gees.
As more than a dozen people browsed through the clothing racks – site of the bar in the former Corvo restaurant – others walked through the art supply and local book departments in the former dining room section. Soon there was a long line at the checkout counter.
Jennifer Tissot, of Saranac Lake, was the first to buy items at the Community Store and proudly held up a free Community Store ice scraper after getting her change.
"I bought a hat and tights, but I'm planning on doing more shopping," she said. "I also own shares, so I'm very excited to be shopping here as a part owner."
(Continued on Next Page)
Prev Next
Vote on this Story by clicking on the Icon