continued — "I had taken two kicks earlier this season and I had gone left on both," Sherman said. "I noticed the keeper was playing that way, so I decided to go the opposite way."
"The only kid that has been taking penalty shots this year is Allison, and that is why she was the last shooter," Rascoe said.
Sherman connected, and the final attempt for Keene and shooter Megan Hall missed the target, giving the Eagles the win.
"It's a great feeling," Russell said. "We were equally matched and they are a great team."
"I try to focus on where the ball is placed," McGee said about the shootout. "I thought that the (last) shot was going to be up. I had a lot of confidence."
"She was very nervous going in," Rascoe said about his keeper. "I told them after that now you know what it feels like to be in the penalty shootouts. For me, I went with my gut feeling. This time it paid off, next time it might not."
Photo Gallery
Indian Lake/Long Lake at Elizabethtown-Lewis Class D quarterfinals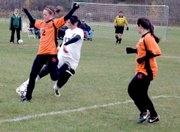 Pictures from the Oct. 27 girls soccer game between the Orange and the Lions.
The Eagles will next face the second-seeded Elizabethtown-Lewis Lady Lions (11-6-0), who got a goal in the 16th minute by Kylee Cassavaugh (12th) on an assist from Emily Morris (10th) for a 1-0 win over the Indian Lake/Long Lake Lady Orange. Jennifer McGinn made five saves for the Lions in the victory.
"I think that we can play with ELCS and have a good game," said the Eagles Russell.
"We have played them in the past," said Rascoe, as the two teams are closer matched than any other teams they face, but did not meet in the regular season. "They have some big guns. We just have to take this game and see how it goes. We have surprised a lot of people and have surprised ourselves throughout the season."
Vote on this Story by clicking on the Icon