Westport — The Westport varsity girls soccer team had home-field advantage for the second time against Keene, and were able to score a win in a penalty kick shootout in the opening round of the Section VII/Class D tournament Oct. 27.
The third-seeded Eagles (11-2-0) scored in the first minute of the game, as Delany Sears tallied her ninth goal of the season on the first assist of the season for Emily Rascoe.
In the 67th minute, Emma Gothner was able to trap a deflection off a Westport defender and put the ball past Eagles goalie Karlee McGee to score the equalizer for the Beavers (5-10-1), and the two teams remained scoreless throughout the final 13 minutes of regulation and the 30 minutes of overtime.
Photo Gallery
Keene at Westport Class D quarters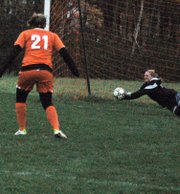 Pictures from the Westport 1-1, 3-2 shootout victory over Keene Oct. 27.
"When we got to the second overtime, I started to think about it," Westport head coach Brad Rascoe said concerning a penalty kick finale.
In the shootout, Sears was turned away by Keene's Tucker Geiger on a diving save, while Sadie Holbrook fired a shot that was deflected by McGee but was able to sneak across the goalline to give the Beavers a 1-0 lead.
Westport's Samantha Roy was also rejected by Geiger in the second round, while Anna Kowanko missed wide with her attempt, keeping the score 1-0 heading into Westport next shooter, Brendee Russell.
"I was thinking that I had to make this," Russell said. "I waited to see where the goalie set up. It seemed like she was favoring the left side, so I went to the right."
"I just said to her, let's go," Rascoe added.
Russell's instincts were correct, and the Eagles tied the shootout at 1-1 before Gothner connected past McGee to give the Beavers a 2-1 lead.
Willa McKinley leveled the score in the next round, while McGee made a save on a shot by Brittany Guerin, making the score 2-2 for the fifth and final shooters. For Westport, they turned to Allison Sherman, who had taken the only two penalty kicks the Eagles had attempted all year.
(Continued on Next Page)
Prev Next
Vote on this Story by clicking on the Icon