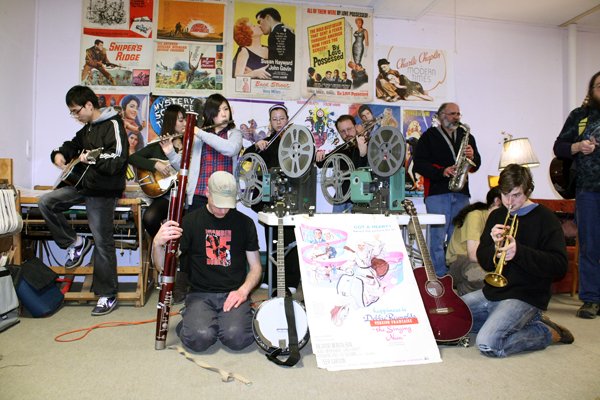 Plattsburgh — The Illegitimate Son of Mystery Science Theater 3000 — a group which gets together to view and openly mock bad cinema — will mark the 20th anniversary of the group's founding with — what else — a film festival.
The group was resurrected last year after a five-year hiatus and has since been meeting on a regular basis to view "B" movies at venues like the Plattsburgh Public Library and the North Country Co-op.
Andy MacDougall, one of the ISoMST3K's original founders, said "Fear in Three Acts" will be a film festival held this Saturday, Oct. 29, to mark the two-decade milestone and the first anniversary of 16 millimeter movies being shown at the North Country Co-op.
"This pre-Halloween event is, above all, tailor-made for the genre completists and basically the fan boy or film geek crowd," said MacDougall.
The event — which will be held at the North Country Co-op, 25 Bridge St. —will boast its feature attraction, "Don't Be Afraid of the Dark," a 1973 film starring Kim Darby and Jim Hutton.
"After seeing its forgettable remake at the Cumberland 12 nearly two months ago, I became hooked on the idea of programming the original version to demonstrate how it has stood the test of time after nearly 40 years," said MacDougall, referring to the contrast of the old film and the 2011 remake starring Guy Pearce, Bailee Madison, and Katie Holmes. "And, we needed something for this Halloween, so the timing was perfect."
The showing of "Don't Be Afraid of the Dark" will be considered the first act of the event, which will start at 7 p.m. The second act will feature short test screenings of works-in-progress by the ISoMST3K group.
"[The shorts] are part of an on-going process in test-screening successive drafts of ISoMST3K works-in-progress whose completed incarnations will be submitted for programming on the film convention/independent film-festival circuit next year," said MacDougall.
(Continued on Next Page)
Prev Next
Vote on this Story by clicking on the Icon