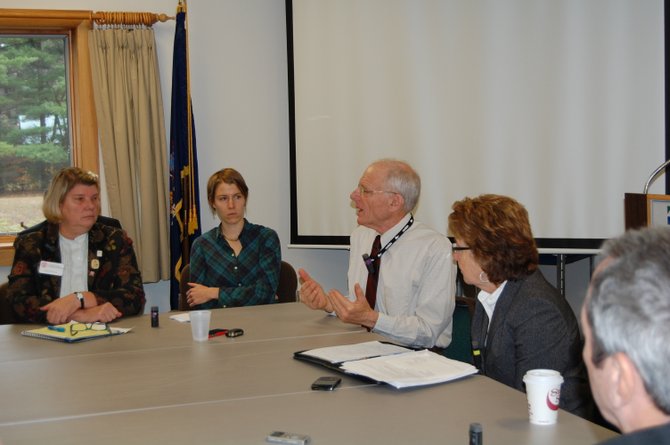 Lewis said his family farm in Essex — which is the only USDA certified grass-fed farm in the nation — could potentially host its own slaughterhouse, but Lewis said he refuses to go through the APA permitting process required to run such an operation in the park.
He said there is no place for the APA in farming and said Adirondack farms would be better served if the USDA and local zoning regulations handled the permitting process.
"I am not going to apply to the APA for permission to put up a slaughterhouse, I never will," Lewis said. "They will find a way to send the signal or Governor Cuomo will find a way or the Lewis Farm is not going to be involved in this process, and we cannot survive without a slaughterhouse."
APA commissioner Art Lussi said the agency would welcome the permits for a slaughterhouse in the Adirondack Park, but Lewis remained steadfast in his contention that farmers should not be required to go before the group.
"What the APA said is because you would reach out to serve other people you need APA jurisdiction. I take issue with that, get that damn law changed," Lewis said. "Jurisdiction is a serious problem with the farming industry, we do not need the APA's jurisdiction in putting up a slaughterhouse."
Following the meeting, Little said she definitely sees the potential for increasing the number of livestock raised in the Adirondacks and supports meat being processed here.
"That was the point of presenting this to the APA — to get them to understand the need and the impact it would have with agriculture," she said.
Vote on this Story by clicking on the Icon