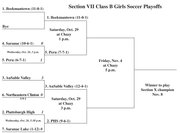 The second-seeded Plattsburgh High Lady Hornets also scored a 1-0 win, their's against the seventh-seeded Saranac Lake Lady Red Storm.
Justine Rotz opened and closed the scoring in the 51st minute for the Hornets (9-6-1) on an unassisted tally.
Karlie Neale made five saves in the victory to earn her fifth shutout of the season, while Regan Kieffer made 19 saves for the Red Storm, who finished the 2011 season with a record of 1-12-0.
The Class B semifinals will take place on Saturday, Oct. 29, with the top-seeded Beekmantown Lady Eagles (11-0-1) looking to avoid being the second victim of the upset-minded Peru Lady Indians at 1 p.m. in Chazy. The Indians were the only team to blemish the Eagles record with a 1-1 tie on the last day of the regular season, Oct. 20.
In the 3 p.m. game at Chazy, the second-seeded Plattsburgh High Lady Hornets will look to score their third win of the season over the third-seeded AuSable Valley Lady Patriots (12-4-1). The Hornets outscored the Patriots 4-1 in their two Division I meetings.
B, C boys, D girls in action
The Section VII playoffs continue today with the Class B and Class C boys playoffs and the Class D girls opening round.
In Class B, the top-seeded Plattsburgh High Hornets (14-0-1) have a bye into the semifinal round. They will face the winner of the game between the fifth-seeded Saranac Chiefs (6-8-2), who travel to face the fourth-seeded Peru Indians (7-7-1) at 3 p.m.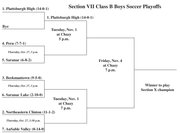 In the other half of the bracket, the second-seeded Northeastern Clinton Cougars (11-1-2) will open up with a 3:30 p.m. game against the AuSable Valley Patriots (0-14-0). The winner of that game would face a semifinal challenge from either the third-seeded Beekmantown Eagles, (9-5-0), who will host the seventh-seeded Saranac Lake Red Storm (2-10-0) at 3 p.m.
Vote on this Story by clicking on the Icon