The first round of the Section VII/Class C playoffs also brought the first penalty kick shootout of the season, as the Lake Placid Lady Blue Bombers and Moriah Lady Vikings went 110 minutes without scoring a goal.
Blue Bombers Carrissa Kennedy and goalie Liz Leff scored the two markers in the shootout as Lake Placid (10-4-2) advanced 2-1 on kicks to the Class C semifinals Oct. 26.
Leff recorded four saves in the contest in earning her eighth shutout of the year and bringing her saves total to 101, along with scoring a decisive kick in the five-vs.-five shootout.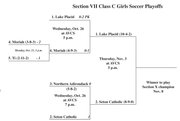 The Blue Bombers will face the Seton Catholic Lady Knights in the Class C finals, as Paige Spittler scored her 12th goal of the season in the 27th minute in a 1-0 win against the Northern Adirondack Lady Bobcats.
Shannon Egan assisted on the goal, while Shannon Olsen made 10 saves in picking up her third shutout of the season for the Knights (8-9-0).
Jesslin Golovach made 11 saves for the Bobcats, finishing the year with 166 saves and five shutouts. The Bobcats finished the 2011 regular season with a record of 7-10-0.
The Section VII/Class C championship game will be played on Thursday, Nov. 3, at 5 p.m. between top-seeded Lake Placid and second-seeded Seton Catholic at AuSable Valley High School.
Class B girls playoffs
The Peru Lady Indians scored the lone upset of the opening round as the fifth seed earned a 1-0 win against the Saranac Lady Chiefs Oct. 26.
Lindsey Bushey scored the lone goal of the game in the 56th minute for the Indians (7-7-1), her 10th of the season, assisted by Mary Mazzella.
Dani Dayton made five saves for the Indians in recording her second shutout of the season, while Jamie Favreau made nine saves for the Chiefs, who finished the 2011 season with a record of 10-6-1.
(Continued on Next Page)
Prev Next
Vote on this Story by clicking on the Icon