continued — The Chiefs scored wins over AuSable Valley (15-50) and Ticonderoga (23-37) to earn the regular season crown with a record of 15-2.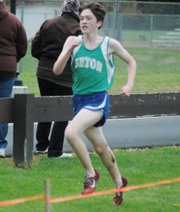 The Knights finished with a 35-32 win over Saranac Lake, while scoring a 24-31 win over Ticonderoga and a 15-50 win over AuSable Valley.
Mitchell Ryan was the top finisher in the meet for the Knights with a time of 16:51, while Barrett Waling crossed the line in second with a time of 17:02. The pair of Knights were followed by Josh Wade of Saranac (17:11), and Tyler Belden of Ticonderoga (17:53).
Also in boys cross country, the Beekmantown Eagles scored wins over the Peru Indians (24-33) and Plattsburgh High Hornets (23-33), while Plattsburgh scored a one-point, 28-29 win over the Indians.
Dan Lennon was the first across the line, as the Peru runner finished with a time of 16:23. Jeriqho Gadway finished second for the Hornets (16:57), while the trio of Matt Simpson (17:08), Colin Quackenbush (17:13) and Jordan West (17:15) rounded out the top five for the Eagles. Indians James Downs (17:22) and Kyler Agoney (17:24) followed.
In Champlain, the Northeastern Clinton Cougars boys team scored a 16-41 win against the Lake Placid Blue Bombers and a 20-35 win against the Saranac Lake Red Storm, while the Red Storm beat Lake Placid, 16-45.
Landon Gosselin won in his first start as a varsity runner for the Cougars, clocking in a 19:13, with teammates Sean Kuzmin (19:37), Neil Miller (19:42) and Anthony Piche (19:45) following. Max Paul finished sixth for the Red Storm (19:47) while Nick Stosiek finished ninth for the Blue Bombers (20:49).
Girls cross country
The Seton Catholic Lady Knights and Peru Lady Indians finished in a tie for the CVAC girls cross country title, as the Knights scored wins of 23-32 over the Saranac Lady Chiefs and 15-50 over both the Ticonderoga Lady Sentinels and AuSable Valley Lady Patriots.
Vote on this Story by clicking on the Icon