North Creek — Meet the Candidates part two at Tannery Pond attracted a much larger crowd than the first Ski Bowl forum organized to allow town government hopefuls a chance to make their cases for office.
In the running for town supervisor are current town board members Ron Vanselow and Charles Martin.
Vying for seats on the town board are current member Gene Arsenault, Pete Olesheski, Roger Mosher and Robert Nessle.
To begin the forum, candidates were given the floor for a few minutes to introduce themselves and talk about their plans for office.
Mosher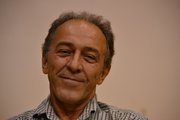 Mosher said people have found him to be harsh or abrasive.
"I call that passion," he said.
Mosher said job creation is a priority, and said he had a few ideas to put people to work.
To take advantage of the train tourists, local historians could organize tours of landmarks in town, he said. A campground at Dunkley Falls would generate revenue and provide supervision for the area during its busy summers. The train could be tied into industrial development at Riparius, he said.
He'd also like to see town board members lose town health insurance, a move he said could save the taxpayers a fair amount of money.
Arsenault
Town Supervisor Sterling Goodspeed's budget is tight, but there are needs around town that the budget isn't addressing, Arsenault said.
Arsenault said his proposal to borrow money or move FEMA disaster funds from the highway budget was an attempt to get a conversation going about finding the money for needed initiatives, like town building repairs and a property revaluation.
"I found it pretty discouraging," he said.
Discussion was had in news articles, but the people who commented in news articles never approached him, he noted.
If it's not in the budget, it's not going to happen, he said. The town needs to invest in its future, he stressed.
(Continued on Next Page)
Prev Next
Vote on this Story by clicking on the Icon