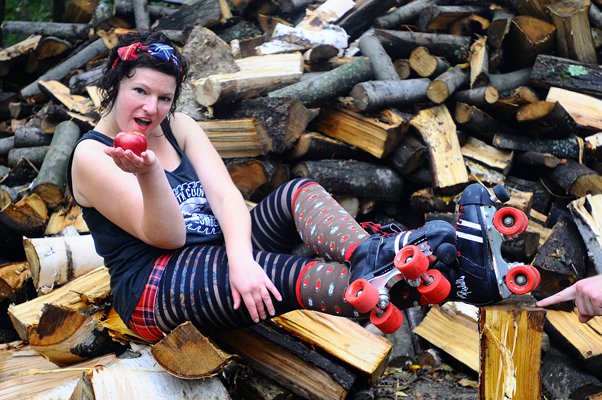 If you ask anyone who knows me — friends, family, co-workers, past teachers and coaches — they will all tell you I've always marched to the tune of a different drummer. I take pride in my uniqueness and feel derby has been a perfect extension of how I have always lived my life — a little out of the ordinary!
As I gear up to play roller derby and take on my alternate personality I giggle to think about the two very different roles I have. During the day, I teach first grade and love my profession; I get to be kind and gentle.  Then, in the evening, I go and play roller derby, where I'm expected to hit people hard and be loud! The two parallel each other in some ways, because both let me be in a position where I can have fun, be silly, and work collaboratively. My clothing and accessories are always bold and full of life in school and on the track, whether I'm wearing a glow-in-the-dark solar system shirt to school when I'm teaching about outer space or I'm putting on my bright colored knee-high socks with funky patterns for derby practice! Derby has become so ingrained in my life that it's hard to imagine life without it. I often joke about how before doing derby my Friday nights consisted of me sitting on my couch, eating take-out, correcting papers. Now, my Friday nights consist of me practicing roller derby skills and hits with a group of amazing women! In many ways, roller derby has helped me grow into a more positive, stronger, and healthier woman and I will be forever grateful to have been a part of such an amazing team. 
Our team has started to thrive because we all work together to create a positive and supportive environment.  Of course, we couldn't have done it without the help of our amazing community. Numerous businesses and community members have helped our team in the form of sponsorships, donations, purchasing ad space in our bout programs, hosting an event, and renting us a practice space.  Our community has showed our team so much respect and an astounding amount of support. As part of our mission statement, we strive to give back to our community and promote healthy lifestyles. We have been involved with multiple organizations to help raise money and promote awareness for various causes.  We are proud to be part of the Plattsburgh community and feel honored to represent this area and its people.
The team is gearing up for its first home bout Saturday, Oct. 29, at the City of Plattsburgh Recreation Center against the Twin City Riot, a team from Barre, Vt.
Vote on this Story by clicking on the Icon