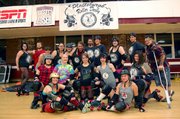 Teachy McKill here, teacher by day and derby killer by night, getting ready to school you on one of my favorite topics — roller derby! There's much excitement and anticipation surrounding the North Country Lumber Jills' upcoming bout against Twin City Riot from Barre, Vt. My team is feverishly practicing, training, and planning our first home bout, "Night of the Rolling Dead."
To give you some background, the North Country Lumber Jills were formed over a year ago and have been making steady progress ever since. My friends and I were inspired by the Green Mountain Derby Dames from Burlington, Vt.  After watching one of their bouts, we fell in love with the sport, female athleticism, and roller derby culture. As soon as we left the bout, we knew Plattsburgh needed a roller derby team. It has taken a massive amount of dedication, planning, and teamwork to build our team from scratch. We started with a handful of women sitting around a table at the Koffee Kat, and now we have a room full of women and men in the upstairs meeting space of the North Country Co-Op. Currently, our team consists of 25 women skaters and two men who referee. It has been amazing to be a part of this team from the beginning and see how much we've flourished.
Our team has an array of members coming from all walks of life and varying athletic backgrounds. This team has become like a second family to all of us and I have the utmost respect for all of our members. Derby is so much more than putting some quad skates on your feet and rolling around a track; we are all very passionate about the sport, our friendships, and the team we've created together. Everyone on our team wants to be successful, have fun and live a healthier life.
The team is gearing up for its first home bout Saturday, Oct. 29, at the City of Plattsburgh Recreation Center against the Twin City Riot, a team from Barre, Vt.
(Continued on Next Page)
Prev Next
Vote on this Story by clicking on the Icon