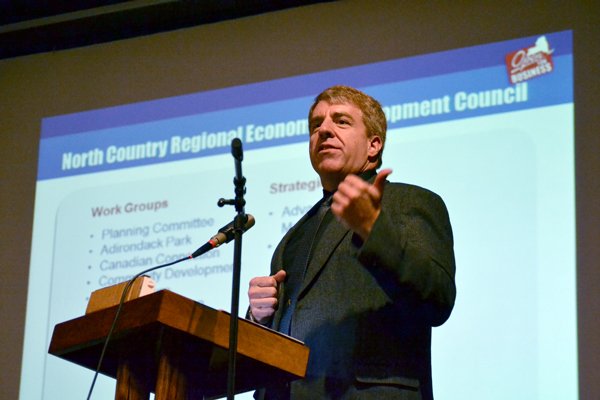 Indian Lake — Closing in on their submission deadline, members of the North Country Regional Economic Development Council said networking, not dollar numbers, is their focus so far during an Oct. 19 public forum at the Indian Lake Theater.
One of 10 similar councils, the group is tasked with identifying, building and soliciting project proposals that can have a continuing economic impact in their regions.
Much media attention has focused on competition over the $200 million to be awarded in this round of state funding, but long-term a lot more money is at stake, said Garry Douglas, council co-chair and president of the North Country Chamber of Commerce.
Another $800 million will be distributed over the life cycle of the project, so leaders of North Country council are thinking long-term.
The relationship building that's happening now is building a strong foundation to work from for this funding round and those following, said Douglas.
What about matchmaking, asked Jon Voorhees of Indian Lake. There are significant, untapped hydroelectric opportunities at the Indian Lake and Abanakee dams, he said, suggesting the council connect local interests and power developers to see what options exist.
"Definitely," Douglas answered. This networking is a benefit of the councils that shouldn't be overlooked or undervalued, he said.
Morehouse Town Supervisor and Hamilton County Board of Supervisors Chairman Bill Farber chairs a subcommittee of the council focused on the Adirondack park. The park-centric committee was insisted upon by the council, and agreed to by the governor. The turnout at Indian Lake, along with the turnout at an earlier meeting in Tupper Lake, marked the high points of attendance for the council chairs' tour, said Tony Collins, council co-chair and president of Clarkson University.
Collins said the sense of community in Indian Lake is commendable and refreshing. In small towns closer to bigger cities like Potsdam and Plattsburgh, people are seeking help rather than trying to help the council, he said.
(Continued on Next Page)
Prev Next
Vote on this Story by clicking on the Icon