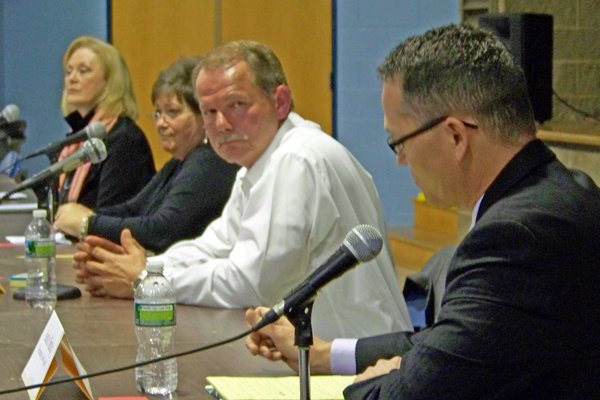 continued — Reed said that she started attending town board meetings over concerns about the burden of health insurance premiums that were granted town board members, who attend just several meetings a month.
"I know of no company out there that gives their employees complete health insurance at no cost as long as they live," Reed said.
Markey noted that the town's generous health insurance extends to the employees' spouses, which can boost ongoing burden on taxpayers.
"We know we need a change, and I'm willing to make that change," he said.
Markey and Ackley both said that devoted numerous hours to town concerns, even answering calls during the night.
Balancing off their occasional verbal jabs, Marcella and Reed both said the present board had indeed worked hard on commercial development, as well as on efforts to solve the town's water quality problems that have persisted for decades.
All candidates said they had ample hours to devote to town business, all said they were ardent supporters of Richards Library, and all said they supported boosting commercial and industrial development to boost the economy and create jobs that might entice children of local citizens to settle here.
Markey said he has been dedicated to bringing stores into town, citing the new short-order restaurant, and the new Smoke N Save cigarette retailer on Main St..
Marcella noted that the high taxes in Warrensburg were discouraging homebuyers to the point the the local population was shrinking, while neighboring towns were growing. Marcella continued that her background as a real estate broker, a stockbroker and tenure as president of the Commercial/Industrial Real Estate Board of the Capital Region would be put to good use in seeking out solutions to prompting development and lowering taxes.
"I'll be dedicated to open, honest, accountable government," Marcella said.
Joyce and Marcella said that public apathy needed to be overcome with new energy and open discourse on the board.
Markey said he was already exerting that influence on the board.
"I'm energetic, high-strung and high functioning, and I'll continue to work hard on behalf of the town's citizens," he said, adding that he was an independent thinker.
Ackley said he was always available, and caring towards the local citizens.
Reed said she'd be working to give a voice to the local taxpayers. She also said if elected, she'd focus on developing the vacant lots and filling the vacant commercial buildings with active, prosperous businesses.
Vote on this Story by clicking on the Icon