continued — The Plattsburgh High Hornets will play the winner of the Saranac v. Peru game in Chazy on Tuesday, Nov. 1 at 5 p.m., and will be followed by the game between the winners of the NCCS v. AVCS and Saranac Lake v. Beekmantown games at 7 p.m.
The Class B championship will be held on Friday, Nov. 4 in Chazy at 7 p.m.
Boys Class C soccer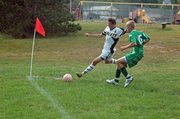 The Northern Adirondack Bobcats finished fourth in Division II of the Northern Soccer League, but earned the top seed in the Class C playoffs with an overall record of 6-8-0 and a divisional record of 5-7-0.
The Bobcats were led by David Miller's eight goals, while Justin Kellett has six goals and three assists and Nolan Ferguson had five goals and six assists.
In the lone semifinal game, the second-seeded Lake Placid Blue Bombers (4-8-0) will host the Seton Catholic Knights (3-11-0, 3-9-0) on Thursday, Oct. 27, at the AuSable Valley soccer field at 6 p.m.
Haile Thompson and Eddie Kane have scored key goals for the Blue Bombers throughout the season, as they will look to contain the Knights Adam Tedford, who has scored 14 goals on the season.
Northern Adirondack will play the winner of the Oct. 27 game in the Section VII/Class C championship game Thursday, Nov. 3, at AuSable Valley with a 7 p.m. kickoff.
Boys Class D soccer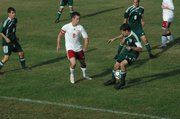 The Willsboro Warriors grappled the top seed in Class D away from perennial power Chazy, but may have to disprove the theory that the toughest thing to do in sports is to beat a good team three times in order to capture the Section VII/Class D crown.
The Warriors (12-2-2, 10-2-2), who are led by region-leading scorer Clay Sherman (24 goals, 1 assist) and setup man Jeff Bigelow (4 goals, 13 assists) will receive a bye in the opening round of the playoffs, while the second-seeded Eagles (13-3-0, 10-2-0) will play host to the seventh-seeded Westport Eagles (0-12-0) on Friday, Oct. 28 at 5:30 p.m., who they have outscored 21-0 in their two Division II meetings. Chazy is led by Brandon Laurin's 20 goals and seven assists, while Jordan Barriere has 11 assists to go with seven goals. Westport is led by senior Cooper Sayward, who has recorded three goals, while senior goalie Ethan Markwica has been called on to make over 100 saves in net for the Eagles.
Vote on this Story by clicking on the Icon