continued — On the other side of the bracket, the AuSable Valley Patriots (2-5) are the second seed and will host third-seeded Ogdensburg (4-3) on Friday, Oct. 28.
Austin House has 706 total yards from scrimmage while Dillon Savage has 394 yards rushing.
The winners will play at the site of the highest remaining seed the following week for the Class C title.
Class D Football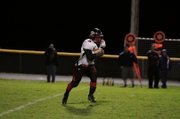 Class D will only have one game on the opening weekend, as the Moriah Vikings (1-7) will travel to play the Tupper Lake Lumberjacks (5-3) on Friday, Oct. 28, at 7 p.m., with the winner traveling to play top seed Ticonderoga (4-4) the following week.
The Lumberjacks are led by the dual running attack of Jordan Garrow and Tim Ropas, with Ropas rushing for 651 yards and 11 touchdowns while Garrow rushed for 631 yards and seven touchdowns. Morgan Stevens finished with 594 yards passing and seven touchdowns.
Boys Class B soccer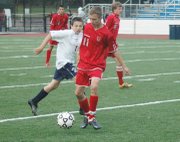 The Class B top-seeded Plattsburgh High Hornets (14-0-1, 10-0-1) will look to keep their unbeaten ways going, but will do so with an opening round bye Thursday, Oct. 27. Ethan Votraw lead the Hornets with 15 goals and seven assists, while David Carpenter added 14 goals.
The Northeastern Clinton Cougars (11-1-2, 9-1-2) are the second-seed in Class B, and will host seventh-seed AuSable Valley (0-14-0, 0-12-0) Oct. 27 at 6 p.m. Kyle McCarthy leads the Cougars with 14 goals on the season, while Kyle Sprague has scored in the last two games for the Patriots.
Third-seeded Beekmantown (9-5-0, 8-4-0) will play host to sixth-seed Saranac Lake (2-10-0) at 3 p.m. on the 27th, led by Austin Burl (8 goals, 4 assists) and Adam Goldfarb (9 goals, 1 assist).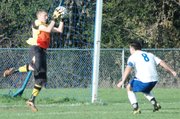 The fourth-seeded Peru Indians (7-7-1, 5-6-1) will round out the Class B opening round with a 3 p.m. start time against the fifth seed Saranac Chiefs (6-8-2, 4-6-2). Ian Spear has 12 goals and three assists for the Indians, while Kolby Keysor has scored 13 goals and tallied three assists for the Chiefs.
Vote on this Story by clicking on the Icon