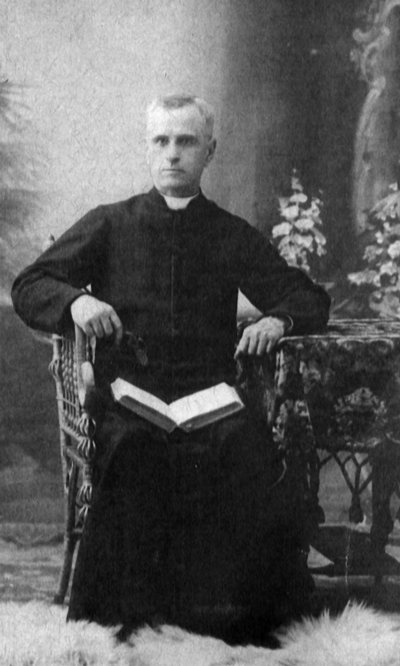 continued — "It reminded them they had a wonderful heritage," Delbel said of the church's parishioners, adding those who attend the church to this day share that same French-Canadian lineage.
Though the church was viewed as Chagnon's crowning achievement, he didn't stop there, said Delbel. In 1906, through Chagnon's efforts, a Catholic school was opened, bringing the Daughters of the Charity of the Sacred Heart of Jesus — a group of nuns came to America from France — to teach the students.
"[Chagnon] insisted on offering a Catholic education," said Delbel, "which was difficult because, again, there wasn't much money."
What became Chagnon's most notable accomplishment, however, was the construction of the monument dedicated to French explorer Samuel de Champlain, the namesake for the village, town and lake which divides the states of New York and Vermont.
"The town fathers here in Champlain wanted to put up a statue in honor of Samuel de Champlain but couldn't come up with the money, so they turned to Father Chagnon," said Delbel. "He went all over New England and New York to the French communities, meeting with Franco-American societies, and got them to donate to this statue, which was put up on church land."
Eventually, enough money was raised to erect the statue in time for a dedication July 4, 1907, and make it the first statue in the nation to honor Samuel de Champlain.
"It was the last big thing he did and, in a way, his crowning achievement as pastor here," said Delbel, who noted Chagnon died four years later on Oct. 10, 1911.
Chagnon was laid to rest in a tomb on the church grounds behind the statue of Samuel de Champlain, across the street from the former Catholic school he helped establish. Chagnon's final resting place put him among the three efforts he was most known for, noted Delbel.
"He certainly was worth celebrating. He really put a stamp on this parish that's still influential today," said Delbel, adding the local Knights of Columbus council also bears Chagnon's names as the Francis X. Chagnon Council 3525.
"He was one of the most important people in the North Country," said Delbel, "and we remember him."
Vote on this Story by clicking on the Icon