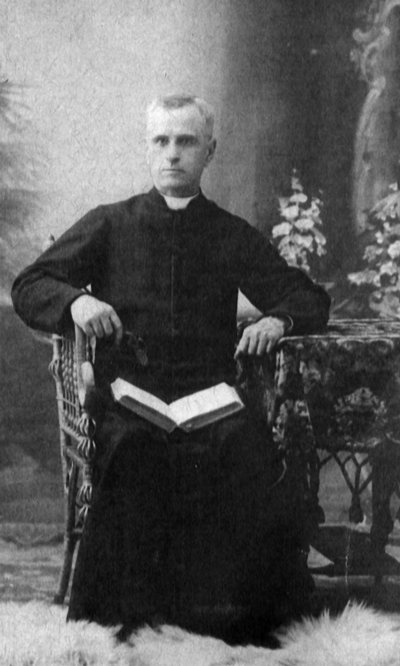 Champlain — The life of one of the region's arguably most influential men of his time has not been forgotten.
The congregation of St. Mary's Church recently honored the 100th anniversary of the death of the Rev. Francis X. Chagnon, a former pastor of the church who served at its helm for nearly 35 years.
The Rev. James A. Delbel, who serves as the current pastor of the church, said Chagnon's strong vision shaped what the village of Champlain, and particularly the church, is today.
"He was a remarkable man in many ways," said Delbel.
Chagnon — a native of Vercheres, a suburb of Montreal just an hour north of Champlain — was appointed pastor of St. Mary's Jan. 6, 1877, said Delbel. The parish which Chagnon came to was a financially poor one, meeting in a modest and antiquated wooden church. However, the congregation was rich in spirit and determination, he said, as Chagnon soon led the way in raising money for the construction of a new church which still stands in the village today.
"He could have built any church, but he wanted to build a large and beautiful church," said Delbel.
Though it was a struggle to raise the money for the building's construction, Delbel said the project was completed before the turn of the century. The new church not only gave the congregation a formidable place of worship, but it also earned Chagnon great admiration and respect, said Delbel.
"It was a tough time to be an immigrant in this country. Diversity had not yet taken hold," explained Delbel. "The French would come down from Quebec to work in the factories here after the Civil War and the were not very well-treated; they were looked down upon as foreigners."
The church was built with Chagnon's strong emphasis on sustaining and promoting the Franco-American culture of the area, said Delbel.
(Continued on Next Page)
Prev Next
Vote on this Story by clicking on the Icon