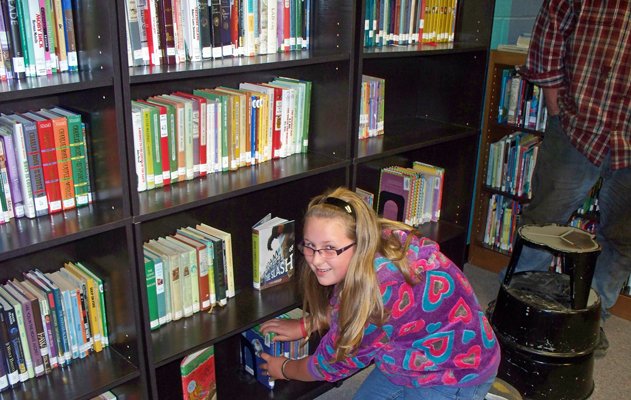 Dannemora — The move for the Dannemora Free Library is now officially complete.
Though the library relocated from its former home on Cook Street to its new location in the Village of Dannemora Office Building on Emmons Street in August, there was one thing missing: the final book from the library's old shelves.
"Winter of the Ice Wizard," a book in the Magic Treehouse series written by Mary Pope Osborne, wasn't hastily left behind, however. It was intentionally left there, waiting for one particular person to take it to its new home and that person was 11-year-old Elizabeth Allen, daughter of Ty and Faith Allen of Saranac.
Elizabeth was among those enrolled in the library's summer reading program who entered a contest to guess the exact number of books in the library's collection, said library director Laura Pritchard. Elizabeth guessed 8,000 books and was closest to the actual number of 7,613. The prize was shrouded in mystery until Elizabeth was announced the winner and she was told she could pick the last book to be moved to the library's new location.
"Our board and I were brainstorming ways to include the summer reading program into the process of moving from our old facility to our new one and to generate some excitement," said Pritchard. "We figured this would be a good way to get many of the kids we don't see until the next summer reading program excited and wanting to come back more through the school year."
The contest worked, said Pritchard, receiving several entries and showing the enthusiasm of children in the program — especially Elizabeth.
"She was very excited," said Pritchard. "She had a big grin on her face."
Elizabeth, a fifth grade student at Holy Name Elementary School in Au Sable Forks, chose "Winter of the Ice Wizard" because it was part of a series of books she was soon becoming a big fan of, she said.
(Continued on Next Page)
Prev Next
Vote on this Story by clicking on the Icon