continued — In Tupper Lake, the Lumberjacks (5-3) prepared for their Class D semi-final matchup with Mariah (1-6) with a 50-6 victory against Canton (0-8). Jordan Garrow ran the ball 17 times for 180 yards and three touchdowns for the Lumberjacks, while Tim Ropas ran the ball six times for 143 yards and three more touchdowns. Stone Keniston had the final touchdown on the ground for the Lumberjacks from one yard out.
Morgan Stevens finished the game 4-of-8 passing for 26 yards.
Girls soccer
Karlie Neale made four superb saves in the opening half and the Plattsburgh High Lady Hornets rallied from a one goal deficit to score a 2-1 win over the AuSable Valley Lady Patriots Oct. 21, wrestling the two seed in the division away.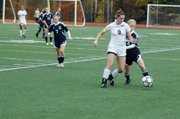 Meghan Strong scored the opening goal of the game in the 37th minute as Megan Colby fired in a corner kick that was deflected on goal, when Neale made a save. Neale made a second save on a Cammey Keysor shot, but was unable to get back into position to stop the Strong goal. Neale had made a pair of goal-saving games in the minutes leading up to the opening score, as well.
In the second half, the Hornets offense went to work, as Marle Curle scored in the 45th and 51st minute on assists by with Madison Trombley.
Neale finished as credited with only the four key saves, while Taylor Saltus had six saves for the Patriots. The Hornets finished with regular season with a record of 8-6-1 overall and 7-4-1 in Division I, while the Patriots went 10-4-1 overall and had an identical 7-4-1 divisional record. The Hornets won both matchups in the regular season against the Patriots by a combined 4-1 score. The Hornets win also dropped the Saranac Chiefs to the four seed (10-5-1, 6-5-1).
Vote on this Story by clicking on the Icon