continued — Remillard finished with 19 yards rushing and 53 yards receiving and one touchdown on a total of four offensive touches, while combining for 2.5 tackles for loss, 0.5 sacks, one forced fumble, one fumble recovery and an interception for a touchdown.
Hendrix, who was the starting tailback with Alex Cederstrom unable to play, ran the ball 12 times for 163 yards and two touchdowns.
"I was excited to be starting," Hendrix said.
"He embraced the opportunity to start and be featured," Damiani said.
Overall, the Indians ran the ball 38 times for 252 yards and four scores, while Rock was 8-of-12 passing for 136 yards, three touchdowns and one interception.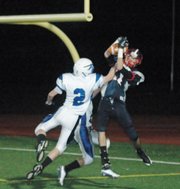 For the Patriots, backup quarterback Kodie Simpson was 3-of-6 passing for 91 yards, connecting with Connor Manning twice (including a 14-yard scoring pass) for 51 yards and Kyle Prinsen once on a 40-yard scoring pass. Prinsen finished with two catches for 65 yards.
Savage was held to 26 yards rushing on 13 carries, but did record two tackles for loss including a sack on defense. Matt Lamere had an interception for the Patriots.
The Indians, who finished the season at 8-0 and the top seed, will host Gouverneur in the opening and semi-final round of the Class B playoffs, while the Patriots (2-5) will host Ogdensburg (4-2) as the second seed in the Class C semi-finals.
"It feels great for this to be my senior year and to have a season like this," Hendrix said. "We are going to look at the tape this week and prepare for the next challenge, because we are 0-0 now."
"It's fantastic to go undefeated in the regular season, but now it is time to get ready for playoffs," Remillard said.
"This team knows that every week we need to go out and make a statement," Damiani said. "They are excited about the undefeated regular season because they know who much hard work it took, but this is a good group of kids and they know what's coming. They know."
Vote on this Story by clicking on the Icon