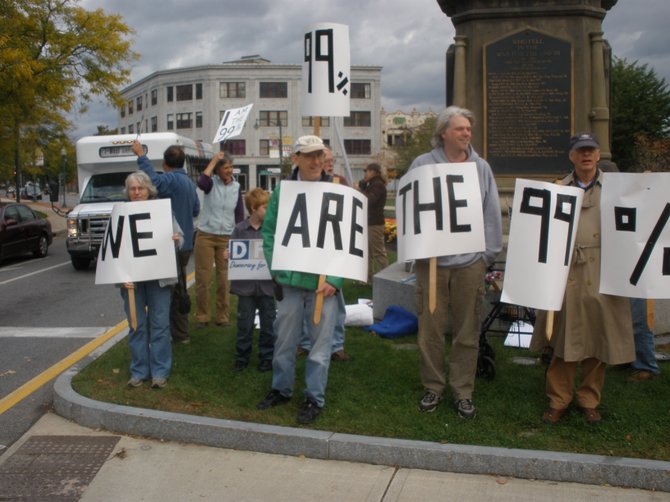 Glens Falls — Subhead
By Thom Randall
thom@denpubs.com
GLENS FALLS — Two groups protesting lack of jobs and the unequal distribution of wealth in the U.S. are planning to hold demonstrations Saturday Oct. 22 in downtown Glens Falls.
The local chapter of Democracy for America, which held a demonstration Saturday at the Civil War Soldiers Monument at Bay St. in sympathy with the Occupy Wall St. movement, returns to the same site Saturday from 11 a.m. to noon.
They are to be joined by a group "Occupy Glens Falls" that has been generating support via Facebook. This group has dispatched invitations that say they plan on weekly protests until they have enough support to hold round-the-clock demonstrations
The Democracy for America group's vigil Saturday Oct. 15 involved about 50 people holding signs and talking with motorists and pedestrians passing by.
Group member Lisa Adamson of Lake George reported that some of the spectators spontaneously joined the demonstration, and quite a few drivers honked their horns or waved at the group as they passed by, expressing solidarity.
"The common belief is that there is a corrupting amount of big money infused into our political system compromising Congress and buying off our very democracy," Adamson said. "Much of the country's significant wealth is concentrated in the hands of the very, very rich," she said, noting that taxation discrepancies and loopholes have aided the rich in amassing more and more wealth, while the ranks of the poor are increasing.
The Oct. 15 demonstration was similar to a rally about 11 days earlier when demonstrators protested outside the Glen St. office of U.S. Rep. Chris Gibson, calling for him to boost taxes on the wealthy, and to vote for a jobs creation bill.
The Democracy for America group, Adamson said, has concrete objectives including getting people involved in working for 2011 and 2012 candidates who will help take back Congress from special interests, big money and corporate domination, she said.
(Continued on Next Page)
Prev Next
Vote on this Story by clicking on the Icon