continued — The Lake Placid Lady Blue Bombers and Elizabethtown-Lewis Lady Lions remained tied for second place in the division, as the Blue Bombers scored a 3-2 win over the Willsboro Lady Warriors and the Lady Lions scored a 3-1 win over the Seton Catholic Lady Knights.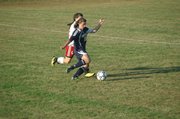 Mackenzie Kemmerer scored the game-winner for the Blue Bombers (8-3-2) in the 66th minute, while Ayla Thompson scored in the third minute (Kemmerer assist) and Kendra Manning scored in he 66th minute.
Amanda Mahoney and Hannah Bruno scored for the Warriors (3-12-1, 2-11-1), while Serene Holland had an assist.
For the Lions (10-4-0, 9-3-0), Emily Morris scored a pair of goals in the 32nd (Kylee Cassavaugh) and 77th (Shonna Brooks), while Cassavaugh scored in the 27th minute off a Lily Whalen assist.
Shannon Egan scored the lone goal for the Knights (6-9-0, 6-7-0) on an assist from Peyton Falb.
Also in Division II, Rachael Venne scored in the 80th minute to give the Northern Adirondack Lady Bobcats (5-7-1, 5-7-1) a 1-0 win over the Moriah Lady Vikings (3-8-2, 3-8-2).
Venne's goal came with just 20 seconds remaining in the game, while Jesslin Golovach made six saves in the win.
The Division II champion Westport Lady Eagles had a stumble in their final divisional game of the season, as the Minerva/Newcomb Lady Mountaineers scored in the second half for a 1-0 win.
Karlee McGee had seven saves for the Eagles (10-2-0).
Megan Hall scored in the second half for the Keene Lady Beavers, but it was not enough as the Wells Lady Indians scored a 3-1 win over the Beavers (5-9-1, 5-6-1).
Boys soccer
The Chazy Eagles scored an 11-0 win over the Northern Adirondack Bobcats Oct. 19, as Nathan Reynolds scored three goals and Brandon Laurin added two goals while Hayden Guay, Hunter Dominy, Nolan Rogers, Justin Brothers and David Poitras scored one goal apiece for the Eagles (12-3-0, 9-2-0).
Vote on this Story by clicking on the Icon