Clintonville — The AuSable Valley Lady Patriots found the net with just 57 seconds remaining in regulation, giving them a 2-1 win against Saranac Lady Chiefs and pulling them alone into second place in Division I.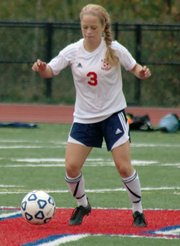 Amanda Hamilton scored the golden goal for the Patriots (10-3-1, 7-3-1) in the 80th minute off an assist from Megan Colby, while Meghan Strong opened the scoring in the 57th minute off ann assist from Haley Taylor.
League-leading scorer Ellen Thew broke out of a three-game goal drought for the Chiefs (10-5-1, 6-5-1), netting a goal that tied the game at 1-1 in the 67th minute, unassisted.
Plattsburgh High remained within striking distance of the Patriots with a 1-0 win over Northeastern Clinton, as Brooke Knight scored the lone goal for the Lady Hornets (7-6-1, 6-4-1) in the 44th minute off a Marle Curle assist.
Celine Bouvier and Christina Paola each made three saves for the Lady Cougars, who ended the regular season with a record of 3-8-1.
Also in Division I, the Saranac Lake Lady Red Storm jumped out to a 3-1 lead and then held on to earn their first victory of the season, 3-2, over the Peru Lady Indians.
Chelsea LaFountain scored the eventual game-winner in the 50th minute for the Red Storm (1-11-0), while Megan Moody scored in the 35th minute (Maggie Darrah assist) and Hope Laramee scored in the 49th minute.
Lindsey Bushey opened the scoring for the Indians (6-7-0, 4-7-0) in the ninth minute, while Ashley Carpenter scored on an Ashley Sardella assist in the 72nd minute.
In Division II, the champion Chazy Lady Eagles scored a 7-0 win against the Ticonderoga Lady Sentinels.
The Eagles (14-1-0, 13-0-0) got two goals from Caitlyn LaPier (two assists) and Christina Emery each scored two goals, while Hannah Laurin, Jori Cooper and Amanda Kempainen each scored one goal.
(Continued on Next Page)
Prev Next
Vote on this Story by clicking on the Icon