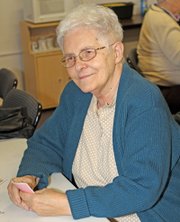 Ticonderoga — Damage from a boiler explosion last spring and a subsequent legal fight have forced Ticonderoga to move its senior citizen program from the Armory.
Six months after a blast destroyed one boiler and seriously damaged another, the Armory still has no heat. With cold weather approaching, town officials have moved their senior citizen center.
The Ticonderoga Senior Center has relocated to the lower floor of the Community Building at 132 Montcalm St. The phone number remains the same, 585-6050. It is open 10 a.m. to 3 p.m. weekdays and is closed on holidays and whenever the Community Building is closed.
The Armory also served as home to the Adirondack Community Action Program nutrition site. That program has been moved to the Ticonderoga Veterans of Foreign Wars Post on Shore Airport Road.
The Ticonderoga youth commission after-school, youth cheerleading and biddy basketball programs all remain at the Armory — for now.
"My plan is to stay at the Armory until I can't," said Marge Hurlburt, Ti youth director. "I think we'll be fine until the middle of November; it all depends on how cold it gets."
The after-school program includes activities, socialization and exercise as well as time for homework. Students in grades kindergarten through five attend Monday and Tuesday and students in grades 6 to 12 Wednesday. If there is no school or early dismissal because of weather the programs are canceled. There are vending machines located on site for students to purchase snacks. For more information call Marge Hurlburt 597-4135 or 586-1052.
An oil-fired boiler exploded at the building last April. The blast destroyed one boiler and seriously damaged another, leaving the facility without heat.
A subsequent legal dispute has prevented the town from making repairs.
The town's insurance carrier agreed to pay $93,119 to cover the replacement of the boilers and other damage. That was the good news for Ti. The bad news was the insurance company believed negligence on the part of the boiler installation company or the boiler maintenance firm caused the explosion. The insurance company wanted to recoup its payment to the town from the responsible party. That meant a lengthy investigation. Ticonderoga could not make repairs until the investigators were done studying the damaged boilers.
(Continued on Next Page)
Prev Next
Vote on this Story by clicking on the Icon