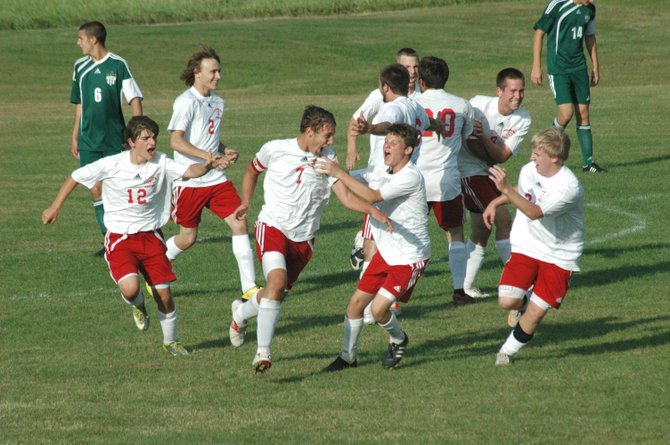 continued — Tyler Rondeau scored the lone goal for the Red Storm.
Cross Country
The Saranac Boys and Peru girls were double winners in a three-team meet with Saranac Lake Oct. 18.
The Chiefs scored wins of 28-31 and 15-48 against the Indians and Red Storm, while the Indians scored and 18-37 win over the Red Storm.
Dan Lennon scored the individual victory for the Indians, crossing in 16:10. Josh Wade finished second for the Chiefs (17:16), while Indians James Downs (17:40) and Kyler Agoney (17:44) finished in the next two spots. Chiefs then crossed the line in the next five positions, including Zach LePage (18:00), Heath Andre (18:27), Matt Madeiros (18:45) and Nick Dormann (18:47). Chris Willette finished 10th for the Red Storm with a time of 18:53.
In the girls meet, the Indians scored a 16-41 win against the Chiefs and a 15-46 win against the Red Storm, with the Chiefs beating the Red Storm, 18-43.
Ashley Leta scored the victory for the Indians in a time of 20:08, while Cheyanne Dobozy (20:27), Meghan Mazzella (20:31) and Maria Remillard (21:17) followed for Peru. Lexi Blockson finished fifth for the Chiefs (21:20), with Saranac Lake's Elena Beidick placing eighth (21:51).
In Champlain, the Beekmantown boys team swept past host Northeastern Clinton (17-40) and Seton Catholic (27-29), while he Knights scored a 19-36 win against the Cougars.
Mitchell Ryan (17:41) and Barrett Waling (17:58) were the first two to cross the line for the Knights, while the Eagles crossed in the next four spots with Matt Simpson (18:08), Colin Quackenbush (18:29), Jordan West (18:34) and John Graziane (18:43). Neil Miller finished ninth for the Cougars (19:29), while Sean Kuzmin rounded out the top 10 (19:33).
In the girls meet, the Lady Knights scored a 23-32 win against the Lady Cougars and am 18-37 victory over the Lady Eagles, while the Lay Cougars scoreing an 18-37 win over the Eagles.
Vote on this Story by clicking on the Icon