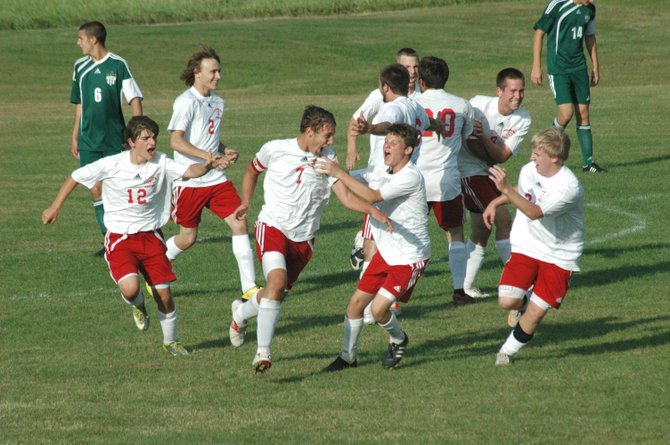 continued — Justin Kellett scored the opening goal of the game for the Bobcats (6-7-0, 5-6-0) in the 37th minute on a Nolan Ferguson assist, while Adam Tedford responded for the Knights (3-10-0, 3-7-0) in the 77th minute.
Joey LaFranca made 18 saves for the Knights, while Evan Mousseau had six for the Bobcats.
In Division III, the Keene Beavers got a goal from Austin Holbrook in the 37th minute (Colton Venner assist), but were unable to recover from a four-goal second half for the Crown Point Panthers, falling 6-1. Brandon Dumas made 20 saves in the loss for the Beavers (3-7-2).
In Division I, the Northeastern Clinton Cougars did their part to set up the Oct. 20 game for the league title by scoring a 2-0 win against the Beekmantown Eagles.
The win puts the Cougars (11-0-2, 9-0-2) one point behind the Plattsburgh High Hornets (13-0-1, 10-0-1), with the two teams set to meet Thursday at PHS. The first meeting of the season ended in a draw.
Bo LeDuc (Matt Letourneau, 49th) and Cole Cooper (Patrick Paient, 75th) scored second half goals for the Cougars, while Josh Rabideau made three saves. Derek Olsen had 11 saves for the Eagles (9-5-0, 8-4-0).
The Peru Indians kept their grasp on fourth place in Division I with a 4-0 win against AuSable Valley, as Sean Harrigan scored in the 67th minute and assisted on goals to Ryan McCall (third), Ian Spear (11th) and William Thew (33rd).
Michael Danis made four saves for the Indians (6-7-1, 4-6-1), while Nick Rhino and Matt Kelly each tallied nine saves for the Patriots (0-13-0, 0-11-0).
Also in Division I, the Saranac Chiefs scored a 5-1 victory over the Saranac Lake Red Storm, as Matt Bouyea, Durgan Zappala, Kolby Keysor, Aaron Cross and Nick Lees scored for the Chiefs.
Vote on this Story by clicking on the Icon