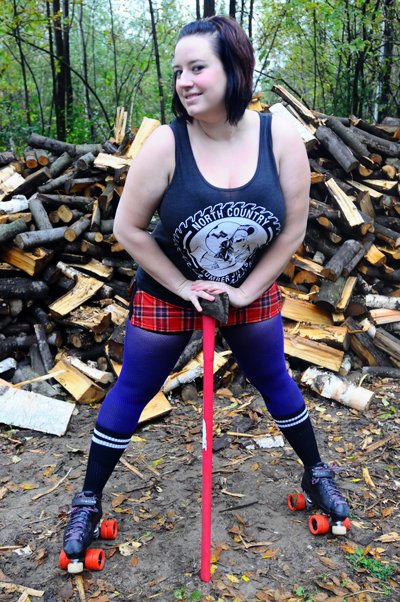 Scrimmaging is a mix of emotions. You've got the skills, you've got the practice, but it's still a totally different animal. You're trying to apply those skills and adapt to be an effective player, but the second you've got your attention one place, someone comes out of nowhere and knocks you down. The fall is followed by a recovery, and a trip, and the whole vicious cycle starts again. So, with trying to score points, playing defense, keeping your eyes open, hitting other skaters, it's easy to get overwhelmed. You need to be focused on the jammer but aware of everything else at the same time. It takes a long time to be comfortable skating in a jam, and six months into playing roller derby, this is where I'm at.
It's a tough journey, full of time spent, bodies bruised, and good times. But, it's a good feeling, accomplishing something you worked hard for, and being able to share it with a bunch of great girls skating with you.
Lorrielle Bombardier shares with readers her experience of joining roller derby. The team is gearing up for its first home bout Saturday, Oct. 29, at the City of Plattsburgh Recreation Center against the Twin City Riots, a team from Barre, Vt.
Vote on this Story by clicking on the Icon