Elizabethtown — While he described the task as "enormously challenging," Garry Douglas said that the North Country Regional Economic Development Council was up to the task, as was the region.
"We are all involved in this challenge, and by that I mean everyone that is in this room," Douglas, the co-chair of the NCEDC and Executive Director of the North Country Chamber of Commerce, told those in attendance at a community forum at Elizabethtown-Lewis Central School Oct. 18.
"We have been stuck in a one-size fits all approach to economic development in New York," Douglas said. "The state is a series of fairly complex economic regions, each with different assets and different challenges. Now, the governor is turning upside down the way the state looks at economic development."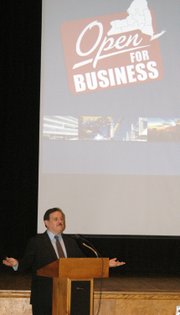 The NCEDC is one of 10 economic development councils in the state charged with creating a plan to boost the economy in each region. For the NCEDC, Douglas said that the goal is to lead the economic renaissance of New York state's small cities and rural communities.
Douglas presented the preliminary work that had been done by the council and also opened the floor to public comment on what needed to be done to help the North Country grow economically.
Douglas was joined at the community forum by NCEDC fellow co-chair Anthony "Tony" Collins, PhD., president of Clarkson University; Cali Brooks, executive director of Adirondack Community Trust; Terry Gach, vice president institutional advancement, Trudeau Institute; and James McKenna, executive director of the Regional Office of Sustainable Tourism.
Douglas said that the council was working toward a Nov. 14 deadline to present a regional development plan to the state, at which time its plan would compete with nine others for $200 million in funding. Douglas said that while he felt good about the region's chances to get funding, he did not see that as the main goal.
(Continued on Next Page)
Prev Next
Vote on this Story by clicking on the Icon