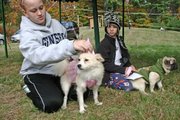 Chestertown — Considering the activity last weekend at Dynamite Hill, pug owners apparently adore their canine pets.
Many dozens of pug owners and enthusiasts from all over northeastern U.S. ignored dismal weather forecasts and turned out for the 12th annual Halloween Pug Parade & Party held Sunday Oct. 16 at Dynamite Hill.
Those attending not only participated in various casual contests and dressed their pet pugs up in costumes for a parade, but they spent time socializing, swapping tales and tips about their beloved diminutive dogs.
The event, which drew several hundred people and their pets, included vendors of pug paraphernalia and meetups between breeders and prospective pug owners.
Darla, a black pug owned by the Dolin family of New Jersey, was one of those pugs who was obtained two years ago at the event. The family has attended for four straight years for vacations with their pugs.
Darla was dressed as an Indian, as was her human charge Leah Dolin, 11. Her parents Ann and Chuck Dolin, were dressed as cowboys, as was their second pub, Biscuit. Last year, Darla — garbed as a Spanish Senorita, won a "Prettiest Pug" award. A year earlier, Biscuit won "Most Handsome," in a surfer dude getup. This year, he was outfitted in chaps, a cowboy hat, and a holster complete with pistols and bullets. Another year, Leah was costumed as Little Bo Peep, and Biscuit was covered with cotton balls to pose as her lost sheep, Ann Dolin said.
"We're already discussing plans for next year," she said, noting the Pug Party was well worth the 470-mile round trip from their home in New Jersey.
"We just wouldn't miss this," she said, noting that pugs enjoy socializing with their own breed.
Local resident Julie Moffit and daughter Ariel echoed the point. They and their pub Angel were dressed as fortune tellers.
(Continued on Next Page)
Prev Next
Vote on this Story by clicking on the Icon