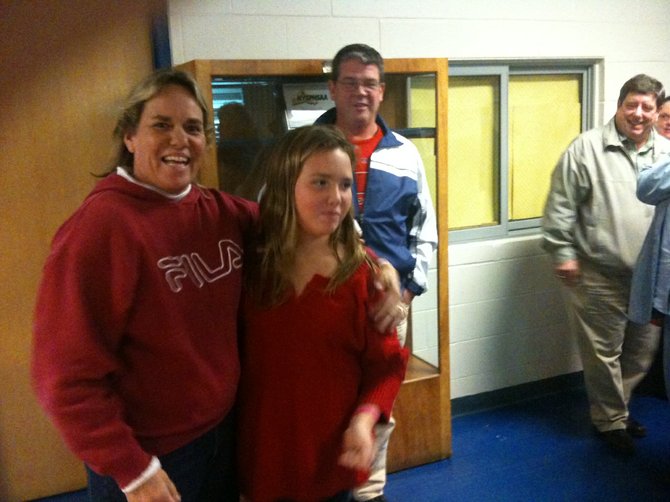 Warrensburg — Minutes before the votes were counted Tuesday Oct. 18 in the Warrensburg School District election, Diane Angell was on edge. She'd never before won a campaign for an elected office.
Decades ago, she'd run for high school class president, but lost the race.
A moment after the votes were tallied by school officials, Angell exhaled and smiled.
She won a seat on the Warrensburg Central Board of Board of Education, defeating Patrick Powers of Warrensburg by a vote of 338 to 213.
"The campaign has been a long haul — and I'm certainly happy with the results," she said.
Angell had invested a lot of work in the outcome, contacting a good number of residents and discussing issues with taxpayers.
The day before the vote, she lettered campaign signs that urged people to vote, and she and her friends attached helium balloons to the signs and planted them beside local intersections to capture attention.
"My friends, family and community came together to accomplish this," she said. "And now I'll work hard to reach the goals I set during my campaign."
Angell campaigned on a platform of maintaining or enhancing the high quality education at WCS as top priority — with an eye on controlling costs.
She pledged to scrutinize expenses, including utility costs, for potential savings. She also said she'd work diligently to pursue grant funding for ongoing programs or facility needs, so taxes could be cut accordingly.
One of the potential savings, she has said, could involve lining up corporate sponsorships of various programs at school, like technology.
Tuesday night, she said she was ready to devote the considerable time needed to help make decisions and form policy for the school district. Her term was to start in less than a day — and this next week, the work on the board begins.
(Continued on Next Page)
Prev Next
Vote on this Story by clicking on the Icon