Mineville — The Saranac Chiefs again used bug plays to jump out to an early lead against the Moriah Vikings Oct. 13, but those plays quickly became far and few between as the rain and Linney Field combined for a sloppy game.
Only seven offensive plays in the game were for more than 10 yards, with the Chiefs scoring touchdowns on plays of 57 yards (Matt McCasland run) 44 yards (Ben Weightman run) and a touchdown pass from Weightman to Nate Bedell from 19-yards out.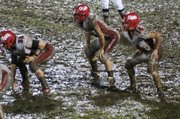 McCasland scored the first touchdown of the game on the Chiefs second play from scrimmage. On the ensuing Viking drive, Jordan Gillespie intercepted a third down pass and returned it 40 yards for a score, giving the Chiefs a 14-0 lead as the game would settle into a defensive struggle for the next two-plus quarters.
"The defenses both came through and made some stops tonight," Chiefs head coach Mark Burrell said. "Both teams had to play in the conditions we faced tonight, and they played really tough. The score did not show how close this game was. They were able to contain us in the middle of the game and a lot of our playbook was out with the conditions."
"We picked it up on both sides of the ball after they scored the interception touchdown," Vikings head coach Don Tesar said. "We made some good defensive stands and we were able to move the ball on their defense on the ground."
The Vikings two longest runs, a 70-yard cutback run by Tom Ida and a 52-yard run by Jim Curran, put the Vikings into the red zone twice in the second quarter, but the team was unable to score off the opportunities.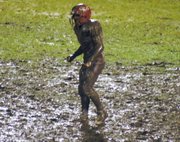 "Our defense was able to make the key plays when they got into the red zone," Burrell said. "We helped ourselves out during that long scoring drought with those huge defensive plays."
(Continued on Next Page)
Prev Next
Vote on this Story by clicking on the Icon