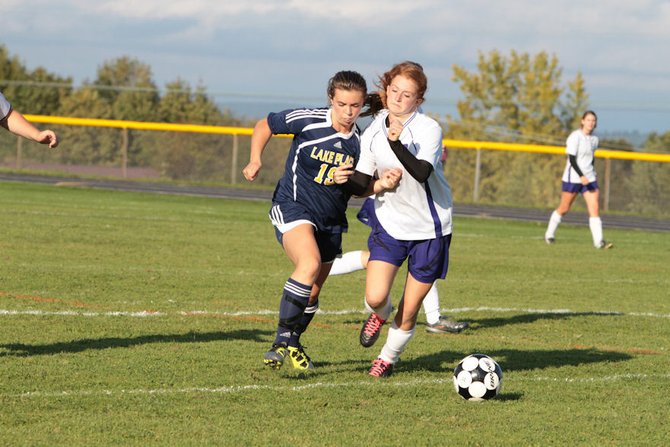 continued — The Lake Placid Lady Blue Bombers kept pace with the Eagles, scoring a 1-0 win against the Northern Adirondack Lady Bobcats as Payton Barney scored in the 21st minute and Liz Leff made two saves in the victory for the Bombers (7-2-2, 7-2-2).
Jesslin Golovach had four saves for the Bobcats.
The Elizabethtown-Lewis Lady Lions also scored a win in Division II, as Emily Morris scored in the 20th minute and assisted on a Kylee Cassavaugh goal in the 48th minute for a 2-1 win against the Willsboro Lady Warriors.
Kyli Swires scored the lone goal for the Warriors (3-10-0, 2-9-0) on an assist from Emily Sayward, while Stephanie Blanchard had nine saves. Kearsten Ashline had six saves for the Lions (8-4-0, 7-3-0).
Currently, Chazy holds a four-point lead of Lake Placid, with the two teams scheduled to play on Monday, Oct. 17 in Chazy.
The Division II leaders, the Westport Lady Eagles, were able to score a win in the second meeting of the season against the Keene Lady Beavers, as Delany Sears scored in the ninth and 19th minutes, both on assists from Allison Sherman, to give the Eagles a 2-0 win (8-1-0, 8-1-0).
Emma Gothner scored the lone goal of the game for the Beavers (4-8-0, 4-5-0) in the 53rd minute, assisted by Sadie Stoner.
Volleyball
The Plattsburgh High Hornets moved into second place in the CVAC volleyball standings with a 3-0 victory against the Saranac Chiefs.
The Hornets scored game wins of 25-18, 28-26, 25-15 in improving to 7-2 on the season, while the loss dropped the Chiefs to 7-3.
Katie Cantwell had 13 kills for the Hornets, while Samantha Malcolm added 10 assists and five digs and Taylor Witkiewicz had four aces, seven kills and five digs.
Samantha Aierle netted three aces, five assists and five digs for the Chiefs, with Danielle Parker recording eight digs and Stephanie Linder combining five aces with six kills and three digs.
Vote on this Story by clicking on the Icon