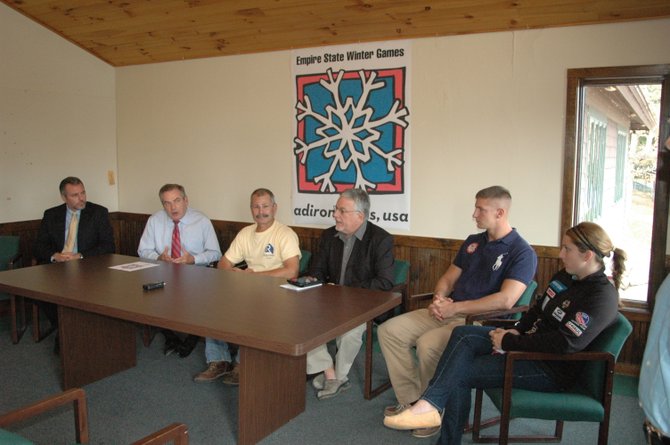 Lake Placid — The first week of February will be a very busy time in the Tri-Lakes.
Along with the Lake Placid Loppett, Lake Placid High School Winter Carnival and Saranac Lake Winter Carnival opening weekend, the Empire State Games will be held starting Thursday, Feb. 2 and running through Sunday, Feb. 5.
Members of the ESG committee met with members of the press during an Oct. 12 conference to announce the dates for the event as well as the involvement of Behan Communications out of Glens Falls, which will be charged with selling games sponsorship opportunities.
"We are in the very early stages of reaching out to sponsorship candidates," said Bill Callen, project manager with Behan. "We are looking for people who will provide a statewide reach. The passion and commitment of the people who now put these games together is contagious, and we are hoping to build off that."
James McKenna of the ESWG Organizing Committee said that the group is proud that they will be able to hold the games for the second year since the state pulled the plug on funding for the annual winter sporting event.
"We have special assets here that we have cultivated over the past 100 years in winter sports," McKenna said. "We want to expand the marketing of these games statewide and we have a goal to double our revenues, and that is why we brought Behan Communications on board."
Jim Goff, ORDA director of events, said that there would also be new events coming to the 2012 version of the games, including slopestyle skiing, snowboarding and long track speed skating.
"That is something that people have wanted to see for a while," Goff said, adding that the games would also feature the return of ski jumping, the second torch run and the second year of the adaptive cross country ski event.
(Continued on Next Page)
Prev Next
Vote on this Story by clicking on the Icon